Summary:: Since most owners have found fleas on their dogs at some time or another, dog fleas are a common complaint that I hear from the community on almost a daily basis. There are a number of treatment methods, both natural and product based and all these choices can make things confusing. I will show you what what works as the best for flea control on your furry doggy!
If you have dogs in the home, there is a high chance that they have had fleas and you would know how irritating these little pests can be! They can feed on the blood of your dog and can make it unhealthy so we need to take action right away! In addition, it has been noted that for every flea you see, there are about 40 others that are hiding elsewhere and are out of sight. What can be done to kill fleas on dogs without breaking the bank? We are going to look at a few ways that you can start using right away and remember, all these methods are tried and tested so you can be confident that they will work, provided you follow the steps carefully.
Why Are There Fleas on My Dogs?
I have had a few people contact me and ask how their dogs got fleas in the first place. Well, there are many possibilities but here are a short list of potential sources of fleas that you need to be aware of if you don't want him or her to catch fleas again:
Neighbors – While they shouldn't carry fleas (I certainly hope not), I have often noted that others may not look after their pets as well as you do. This may result in fleas and ticks which can easily be transferred to your hound, if they come into contact or even if you have an open fence. What's the solution? Keep your dogs away from them otherwise they will get fleas!
The garden – Yep, if you have moist, dark and damp areas of the yard, fleas may be lurking (especially in long grass) and your beloved dog may be the local flea bus that carries them into your home. The best solution would be to get your yard treated and get as much sunlight in your garden as possible to keep the flea problem under control.
Other pets – Fleas on dogs also frequently come from other pets! Do you have a cat that likes exploring the outdoor word and basically uses your home as a half way house or feeding station before pushing off again to experience nature? Well that little fluff ball may be part of a transport system that fleas use as their daily commute into your house and onto your dog. While you cannot force a cat to stay indoors (unless it wants to, remember cats do their own thing) you can definitely be proactive about your flea control and check your cat regularly for fleas to catch a potential outbreak early.
This is definitely not a full list. If you think that a few more should be added, please feel free to leave your comment below and I will consider them for inclusion. Remember your comments will also help others!
How to Identify the Presence of Canine Fleas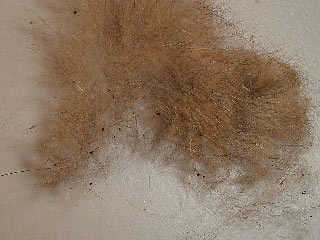 Dog fleas (or any fleas for that matter) go through a life cycle that starts with tiny egg. These little eggs are usually only visible through magnification so we need to have another way to identify the presence of dog fleas. We will talk about removing those eggs from your carpet and other areas a little later. Besides actually physically seeing fleas jumping around, you can look for something known as flea dirt. These tiny black dots are flea poop and dried blood. Using a flea comb for dogs on your dog, both to find any fleas and to remove the dirt. Once you have done so, mix the it with a tiny bit of water. If the color changes into a slight mixture of red and dark brown, its highly likely that these are left overs from a flea infestation and you will need to start the removal process right away! If you would like to see a few pictures of fleas on dogs, a quick Google search will bring up a few good ones. 🙂
Fleas on Dogs – Are Certain Breeds Better off?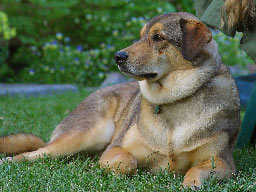 In short, healthy dogs have a higher resistance against fleas. While this doesn't mean that they will never get them, if they have raw food on a regular basis and have certain supplements (like yeast), fleas generally are not as attracted to them and their scent. One thing can be noted however and that is that certain dog flea medicine works better on some dogs than others and its just a matter of trial and error. You will just need to experiment on what is best for your dog when it has fleas and go from there. I recommend (as usual) trying the natural methods first! These are a couple more good tips for dealing with fleas on your dogs. Another factor to consider is the average temperature of your geographical location. If its humid and rather hot at certain times of the year, you will find that flea problems are more frequent as they thrive in warm weather. It even increases the rate that they multiply and how long it takes for their eggs to hatch so make sure you are especially watchful during these seasons.
Help! There Are Fleas on My Dogs and in My Home!
First of all, there is really no need to panic. While killing fleas on dogs can be a bit challenging, with a little time and effort you can overcome the problem quickly. However, it must be noted that fleas do bite humans and dogs (or any other warm blooded pets) and thus can pose a few health concerns. These are:
Anaemia – It has been noted that fleas feed on the flood on your dog and if there are a large amount of them, the blood loss can result in Anaemia. However, after some research, it seems that there needs to be a massive amount of fleas to make this happen. Another interesting fact is that older, very small or young dogs are at a higher risk of this problem. What should you look for? Pale gums and extreme sleepiness are often signs that your dog may have Anaemia from a huge number of flea bites and if this is the case, please contact your vet as soon as possible.
Extreme skin sensitivity – This is also known as dog flea dermatitis. If your dog has sensitive skin, you may have to deal with red inflammation and sometimes even hair loss. There are a number of creams that you can use to ease the itchiness that causes your dog to scratch the area continuously (which also makes it worse) and also a number of natural methods to which I personally find to be my preferred flea treatment for dogs and other pets.
Tapeworm – When your dog has fleas, it will often bite the itchy areas and potentially swallow a flea that was in the wrong place at the wrong time. Unfortunately, this can also be problematic for your dog as if that flea contained cysticercoids (larvae stage of tapeworms), it will be broken down in your dogs intestines and your pet will not only have fleas but also tapeworm which can pose even more health risks. If your dog is dramatically loosing weight or you would like to just be safe, take your dog to the vet for a check-up and get the necessary vaccinations.
Eliminating Fleas on Your Pet and How to Get Them under Control!
Flea control for dogs can be broken down into a few steps. I am going to try and keep this as simple as possible and if you would like more details, feel free to check out this article on the best flea treatments for dogs or leave a comment below and I will assist you personally. Here are my recommendations:
Get a oral (swallowed) dog flea treatment from the vet – These usually kill the fleas when they drink your pets blood and work very well. It has been recommended by a reader (Eljay) of this blog that Nitenpyram (generic of Capstar) is very affordable and is very effective. I haven't personally used it but give it a try, especially if you are a little strapped for cash!
Purchase a "spot" flea medicine for dogs – Brands such as Frontline and Advantage as very good for dog fleas and I have used them on a regular basis. However, please remember that the effectiveness of these products (and other spot on treatments) do vary for a number of reasons (see comments section), so you will need to test what works best for your dog.
There are a few home remedies for fleas on dogs that are very effective. I also like them because they are natural and affordable. A very effective method is to wash your dog in dawn dish soap and warm water a couple times a day for about a week. You will start seeing immediate results but don't forget to let the soap really "foam up" before rinsing it off. Another one is lemon juice and water and its also great.
Flea shampoos and flea collars are also an option. While flea shampoos have had good results for me in the past, I tend to stay away from them for the most part, especially on cats (they do not find the entire process very amusing). My experiences with using a flea collar hasn't reaped too much results but if you have a cat that is outside all the time, this is an option. However, they can be potentially dangerous so do a little bit of homework first before using them!
Lastly, remember those doggy flea eggs we spoke about? They often fall off your dog and other pets and find their way into the fibers of your carpet and other places like these. To stop them from hatching (and thus stopping the flea life cycle), purchase an IGR spray and use it on your carpet and any other places where your dog is commonly found, especially in its sleeping area. Also remember to give your house a proper clean and vacuum to ensure that you prevent further outbreaks.
In conclusion, killing fleas on dogs is not too difficult if you know the steps. The great thing is that once you have mastered them, you can use these skills to fight off any flea problems, both in your own household or even for your friends and family. I hope that this information on dog fleas has been beneficial and if you have enjoyed it, please share it with your friends! I will be writing a few articles over the next couple weeks and will discuss other ways for eliminating fleas on a pet, deal with fleas in-house and use things like flea bombs and sprays.

Hello! My name is Natasha Anderson and I have been helping people with their pest control issues since 2012. If you have any questions, please leave a comment below (or contact me up on social media) and I will respond within 48 hours (even for older articles). Please note that these articles are for informational use only, please seek help from a local professional if you have a serious situation. If you want to support my work, please share this article on social media.