Carpenter ants can be difficult to get rid of and even if you are a fairly clean person, you may find these ants invading your home for no apparent reason. While there are many removal guides on the internet, this one will outline the exact steps needed to kill them and will teach you how to get rid of carpenter ants quickly! While all pest problems are usually frustrating, a carpenter ant invasion can have fairly disastrous effects as they have the ability to burrow through wood which sometimes even weakens the structural integrity of your home. Besides that, ignoring the problem may allow them to grow in numbers which can have other long term affects that you definitely want to avoid at all costs. In this DIY guide we are going to focus on a few natural tips and look at a few other options to kill these pests. If you decide to go the ant trap route, make sure you use one that has been specifically designed for these types of ants and remember to keep your pets away from them. Let's have a look at our options for controlling these insects.
A Few Facts About Carpenter Ants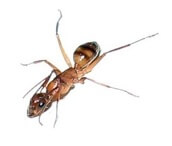 This type of ant are known for their strange ability to catch, live with, protect and physically "milk" aphids for their "honeydew" (which has a very high sugar concentration).
While not as destructive as termites, carpenter ants can cause a significant amount of damage due to their often large numbers and the potential size of their nest.
If you use a stethoscope, sometimes you can actually hear these ants burrowing through wood!
Despite their name, the carpenter ant's diet does not consist of wood! However, these pests are known to damage or destroy wood to create their nest or to expand their colony. This makes them dangerous for any sensible home owner and it's critical that you get rid of them as quick as possible!
Types Of Carpenter Ants In The US
Please note that this article outlines techniques to combat all species of carpenter ants, from anywhere in the world. The three types specified below and their commonly found locations (in the US) are simply for informational purposes only.
Florida carpenter ants are usually slightly red in appearance and as the name implies, are usually found in Florida, US. "Camponotus Modoc ants" are found in the western part of the US and their bodies are usually slightly longer and browner in appearance. "Black carpenter ants" are often found in the eastern US and are usually rather large.
Home Tips – How To Get Rid Of Carpenter Ants
Since carpenter ants all contribute to the operation of the colony and given their large numbers, finding food is a high priority! So when you see carpenter ants crawling around your home, they are not usually there to hurt anyone but rather are looking for any leftover food that they can take back to their nest. Ants are actually rather organized when it comes to gathering food and finding places to shelter their colony, the worker ant is responsible for these tasks. I have personally found that these types of ants tend to find their way into your house from a rotten tree stump or any old, broken wood outside your home so make sure that you check that out before continuing.
How to Remove Carpenter Ants Inside
Yep, while this may seem obvious, giving all your surfaces and floors a good clean on a regular basis can do wonders for any ant control problem. In fact, I have personally found that this may even be enough to solve a carpenter ant infestation because without a readily available food source, these ants will find somewhere more suitable. Use hot water and soap when doing you're cleaning, both of these will kill ants naturally and has the added benefit of making your home smell good 😉 Also remember to:
Take your rubbish out as often as you can and keep it away from your home.
Keep the lid on your bin, especially if it's inside.
Put old food in a separate plastic packet before you throw it in your bin (this works well!)
Never leave food lying around your home, especially things like bread and sugar.
Use an ant trap or insecticide if needed (see more below).
How To Get Rid Of Carpenter Ants Outside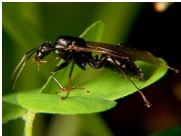 As previously mentioned, hot water and soap gets rid of ants fairly well so if you are lucky enough to find the ant nest or ant hole, pour some of that into it! Depending on the size of the nest, this can often kill the entire ant colony, including the queen ant which will ensure that the ants leave you in peace. I have been told that soda water also works fairly well so give that a try as well. However, I would just go with the hot water and soap as this will suffocate and eradicate them quickly. If you get stuck, I would love to help you get rid of these pests and if you leave your comment below, I will personally answer any questions you may have!
How to Eradicate Carpenter Ants With Diatomaceous Earth!
One of the best natural, safe carpenter ant killer has to be Diatomaceous earth (Food Grade). Often used to dry flowers, this substance will kill ants and even can be used for fleas by dehydrating them and despite what you may be thinking, it actually works rather quickly and is very effective. It also comes in a powered form so use it in the following areas:
Inside electrical sockets (plug points).
In any sort of cracks (walls, ceiling, pipes, window frames, etc)
Near any visible areas where ants seem to congregate.
How To Control Carpenter Ants With Home Remedies To Keep Them Out!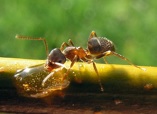 Most of the time, your carpenter ant problem will not disappear immediately and its recommended to be proactive in your approach now that you have learnt how to get rid of carpenter ants, which often requires a repeat of the steps mentioned above. For more general ant control tips, check out my latest guide on getting rid of ants for more easy to follow steps for killing these pests nice and quickly.
Get Advice From An Ant Exterminator For Your Pest Problem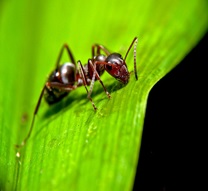 If you have followed the steps recommended in this article and still have a problem, The Bug Squad highly recommends you call an exterminator. While they might be expensive, if you have carpenter ants, the damage they could do to your furniture and other household objects can cost you even more. Just make sure they don't just give your home a quick spray and then take your money from you. Spraying often isn't enough and while it may kill the worker ants temporarily, this can actually make your ant problem worse in the long run as the queen will increase her output of eggs to make up for it. Ideally you want them to give you a solution which involves the ants taking the poison down into their nests, thus killing the entire colony and hopefully the queen.
I hope that you enjoyed my article and will use the information to help you exterminate a carpenter ant invasion. Killing these pests are a fairly high priority and if you have anything to share or ask, please do so in the comment section below and I will try get back to you within 24 hours. Lastly, please consider sharing this information on twitter/Facebook/etc so that others can also learn how to get rid of carpenter ants and can benefit from the hard work that has been put into this article. Thanks for reading and I hope you visit again soon 🙂

Hello! My name is Natasha, and I have been helping people with their insect problems since 2012. I have published a book, worked with many pest control companies, and helped thousands with various infestations on a one-to-one basis. My goal for this blog is to create evidence-based guides that are easy to understand, provide sufficient depth and can be trusted to be very accurate. Please remember that my guides are for informational purposes only, and that you agree to the terms of use when reading content on this website. If you leave a comment, I typically respond within 48 hours.