Flea bites often result in very itchy skin which can often escalate into a serious infection if not treated correctly. My husband suffers from fairly bad allergies and when he was bitten by a few fleas that our puppy had brought into the house, he developed a terrible rash that made scratching almost impossible to resist. Also, since fleas feed on blood, sometimes they can also carry some nasty bacteria that can further aggravate the situation.
However, there is no need to panic as we are going to look at a variety of ways to deal with them and also explore a few effective measures that you can take to get rid of fleas quickly. As you will see, home remedies work very well for someone who has suffered from a flea bite and they are also very cheap. If you are looking specifically for information on getting rid of fleas on puppies or adult dogs, check out that article for additional info after you finish reading this guide. Lets take a few moments to explore our options and I will let you choose the method that is the best for you and your family.
Symptoms – What Do Flea Bites Look like?
These bites usually cause red bumps on the skin that look very much like a mosquito bites, tick bites or even bed bug bites. However, if you have fleas that have taken the opportunity to bite you, there are usually more then one bite in the same area. Many people have asked me, "can people get fleas" and for the benefit of anyone reading this article, remember this: While fleas prefer animals, is actually rather common for fleas to drink the blood of humans. As you can imagine, this situation needs quick identification to prevent complications.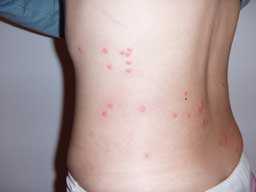 Take a moment to look at flea picture on this page. Notice that although this is a fairly severe case and its unlikely that you have it this bad, do you notice how there are many bites in a single place? Sometimes these bites also appear in lines across the skin of the victim. As mentioned in the introduction, those with sensitive skin will often develop a rash that gets worse when you scratch it. Most of the time, these flea bite marks will be itchy and cause discomfort during the day so it's a good idea to treat them as soon as possible. I will go through a few ways that this can be done but first, how is it possible that people do not feel a flea biting the skin?
How Come I Do Not Feel the Flea When It Bites?
Despite the fact that fleas are tiny and make a very tiny hole in your skin to feed on your blood, they also inject a natural anesthetic that numbs the target area and that's why you don't feel them when they bite. However, it has been reported that some people feel a tiny prick when it bites but in my personal experience, I feel absolutely nothing, even when I had multiple bites on my back a couple months ago. At this point, perhaps you are certain that you have suffered from a flea bite. What are a few things that you should not do if you don't want to make the situation worse. What does The Bug Squad recommend for the treatment of flea bites?
Dealing with Flea Bites – Couple Warnings
Do not touch or rub the problem area. Keep you fingers and other potential sources of bacteria away from the flea bites! Bacteria from these places has the potential to infect the flea bites which is definitely something you want to avoid.
Do

not

start scratching the affected area! Personally, a had a few moments where I just could not help it but try and reduce it as much as possible as it can slow down the healing process. If you have sensitive skin, this can also cause a rash that will require further treatment that would be unnecessary if you had just resisted the urge to scratch. I know its hard but lets work together on this!
Do

not

take a hot shower, thinking it may help the itching! The temperature actually worsens the itchiness and you want to avoid this if possible. Slightly warm water is fine.
Natural Methods for Treating These Bites
Do you enjoy having a delicious cup of tea with your breakfast or perhaps after a long day at work? I know that I do! Put those used teabags to good use and place them on your flea bite to reduce the itchiness and tenderness of the skin. Just make sure that you keep milk away from the teabag and remember to wet it with cold water before placing it on your skin. I have been told (although I have not had an opportunity to try it myself) that Comfrey tea is especially good for treating flea bites so give that a try if you have it.
Lemon juice can be applied to the skin to take away some of the itch and although it may tingle slightly, its also good to keep the area free of bacteria!
If you have a cold pack that you normally use on sprains or bruises, you can also put that on the area affected by the flea bites. Ice also works fairly well, although its a bit wet for my liking!
Lavender oil can be used to keep the inflammation down and to disinfect the targeted area and basil oil can be used to relieve itchiness.
You can also use a natural power plant called Aloe Vera. I keep a bottle of this for a number of home remedies and it also does wonders to accelerate the healing process if you have been bitten by fleas.
Another great remedy for a flea bite is plain old baking soda. Simply mix it with water and place it on the flea bite for a couple minutes and you should start feeling relief.
On a final note, just washing the area with soap and water a couple times a day is important to keep the area free of bacteria.
Product Based Solutions for Treating Bites
Calamine lotion is very good and I have personally used this when I was bitten by fleas. In addition, its recommended by a number of the top medical websites on the internet so its definitely been scientifically proven and tested with good results. If you are going to go the product route, this is something that I recommend for the readers of this blog.
Antihistamines, both in the oral (although this usually makes me sleepy so don't take one before you go to work in the morning ;)) and cream variations are excellent solutions for allergic flea bite reactions caused by their bites.
In conclusion, I highly recommend trying the natural options first, especially if you only have a bite marks that you would like treat. These are cheap and have amazing results. However, if you do not see any results from either the natural or the product suggestions, please consult your local doctor for further advice. If you leave a comment below, I will try my very best to get back to you within 24 hours so please do that if you are confused about any part of this guide. Thanks! 🙂
Authors Note: Please note that despite a number of rumors (and a ton of emails from our visitors) regarding HIV/AIDS being transmitted by fleas, the Centers for Disease Control and Prevention has assured us that these are completely false. Please share that fact with friends and family so they are not unnecessarily fearful of flea bites! If you would like to learn more, here is another article about how to get rid of fleas naturally (mostly) that you can put to good use for flea removal. It contains a number of additional tips that I am sure you will find useful 🙂

Hello! My name is Natasha, and I have been helping people with their insect problems since 2012. I have published a book, worked with many pest control companies, and helped thousands with various infestations on a one-to-one basis. My goal for this blog is to create evidence-based guides that are easy to understand, provide sufficient depth and can be trusted to be very accurate. Please remember that my guides are for informational purposes only, and that you agree to the terms of use when reading content on this website. If you leave a comment, I typically respond within 48 hours.