Bed bug bites can leave you with painful inflammation and since they love to hide in beds, you may be bitten a number of times before you wake up in the morning! If you have a severe allergic reaction, its recommended that you seek professional medical assistance as soon as possible. Besides medical creams and pills, things like tea tree oil, baking soda and even lemon juice can also give you relief at minimal cost. I highly recommend that you try these first as they work really well.
Since bed bugs can be found throughout the world, many people have suffered from their bites. Since you are reading this, you have also most likely been a victim but don't worry, you are not alone. Their primary diet is blood, which makes humans their meal of choice, definitely not good news for us! Based on personal experience, they can leave a rather nasty, red mark which can itch like mad. No wonder people say "Goodnight and don't let the bed bugs bite!" What do these bites look like, and what are some ways that you can get rid of them?
What Do Bed Bug Bites Look Like?
In comparison to other insect bites, bed bug bite marks are usually in groups of three or more when they appear on the skin. This is sometimes called the "breakfast, lunch and supper bites". As you can see in the picture below, the bites are rather close to each other. Their bites often look like little red bumps, pimples or even blisters and welts. Some people can also mistake them for flea bites. If one of these insects bite you, you usually won't even feel it as it uses a form of anesthetic which dulls the pain.
Bed bugs also are known to leave bite marks in a straight line, also in close proximity to each other. A single bed bug can bite you a number of times during the night. However, if you have a bed bug infestation, there are usually a large number of these little pests and this can result in a multitude of bite marks.
Please also remember that some people may not have a negative reaction to these bites. In fact, sometimes they are mistaken for spider bites, even by medical professionals so make sure you let your doctor know if you feel it could be a bite from bedbugs. Lastly, you will be happy to learn that bed bugs do not fly so you won't be attacked from the air. 😉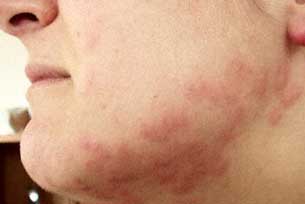 The biggest problem with these bites is that, depending on the persons skin and their tolerance to bacteria, their appearance is different on different types of people. I have noticed in the past that if I get bitten by a mosquito, I get a rather large red mark (even without scratching), whereas my husbands skin hardly shows any signs of the bite.
Likewise, if I get bitten by a bed bug, I usually get a rather bad rash which is extremely sensitive to touch while they are hardly visible on my husband. If your bites become very itchy, you need to resist the urge to scratch the affected area as this can make the problem worse and cause further inflammation, infection or even bleeding. According to the Center for Disease Control, bed bug bites can even cause insomnia due to the fear of being bitten. This can result in a lack of energy and dramatically increased anxiety levels.
Its important to note that bed bugs can easily be transferred from other locations (such as hotels, friends, etc.) into your bedroom, something your definitely want to avoid! Its important to always check your skin, clothing and bags for any signs of bed bugs (and their bites) before entering your bedroom after sleeping away from the home. If you have been bitten a couple times, there is usually no urgent need for medical care. In fact, there are a number of effective home remedies that you can use to treat these insect bites. However, sometimes medical assistance is required. When is this the case and how can you identify when professional help is needed?
Should I Visit a Doctor if I Have Been Bitten?
Firstly, its important to remember that, despite their daily diet of blood, bed bugs will not transfer blood based diseases (such as AIDS, etc.). However, in very rare cases, these bites have been known to cause Anaphylaxis, which is an adverse allergic reaction that covers the entire body in a rash. After being bitten by a bed bug, be alert for any of these potential complications:
Sharp pains around your stomach region.
Breathing or swallowing becomes more difficult.
Skin starts becoming painful to touch (not just around the bite itself)
Swollen tongue or an increasing temperature.
Very light headed or nauseous.
While I understand that these reactions may have other causes, if you have just had a number of bed bug bites symptoms (listed above), I highly recommend contacting a doctor as you may be having an allergic reaction. However, the good news is that its rather rare so there is usually no need to worry yourself.
How To Get Rid of Bed Bug Bites Effectively
Lets have a look at few products you can use to alleviate the itchiness of these bites and ultimately get rid of them. However, before trying anything, something that you should do immediately is give the affected area a quick wash with water and a mild soap. This will ensure that any bacteria is killed and there wont be any potential infections.
Antihistamine cream (Benadryl is a good one) can give you relief from itchiness. Usually you can get this over the counter (without a medical script).
Cortisone cream is also great for accelerating the healing process and calming the skin down.
Antibiotics can be prescribed by your medical practitioner for inflammation and allergic reactions.
Calamine cream can protect dry skin while you body repairs itself.
There are also a number of natural bite treatments that have proven to be very effective. I personally love these! Here are a few that work well:
Relief can be found by putting the affected skin under warm water (NB: Avoid hot water as this can make it worse!)
Apply tea tree oil to the bite marks. Peppermint oil is also a great option to stop the itching and accelerate healing.
Baking soda paste (mix with water), applied to the bed bug bite marks and left for 30 minutes can also yield great results
Lemon juice and Aloe Vera gel has calming and regenerative properties can can be used to treat the bites.
However, always remember that these simply treat the problem and do not get down to the root cause. You will still need to take steps to get rid of them! Here are a couple home remedies to get rid of bed bugs that have been extremely helpful to the community. I encourage you to take a look at that article if you are serious about removing them properly.
Where Do Bed Bugs Usually Bite and How Long Do the Red Marks Last For?
Bed bugs are not too picky when it comes to feeding. As long as skin is exposed, it's a juicy target. However, it seems that bed bugs enjoy feeding on the neck region, making their feeding habits very close to those sparkly vampires you see on Twilight. Since most people wear pajamas when they go to sleep, other common areas for bites include the arms, hands, feet and face since they are also exposed. If you are sleeping in a hotel and are nervous about bed bugs, simply wear extra clothing to completely cover your skin. You can also purchase plastic covers to protect yourself against these pests while sleeping out.
The bites usually last about 7 days, even if they are treated correctly. However, if you have sensitive skin like myself, they can last a couple weeks or in my husbands case, they last only a few days. As mentioned, if you scratch the bites its going to make things worse and besides running the risk of a bacterial infection, they will also take longer to heal so keep your nails away from them!
Pictures of Bed Bug Bites For Easy Identification
Here are a few more picture of bed bug bites for your viewing pleasure. If you have any more and would like to contribute to this post, please feel free to contact me and I will put them up!
In conclusion, bed bug bites can be a pain to deal with (pun intended) but with a few natural or product based remedies, treatment is rather easy. Most of the time, these bites can be extremely itchy and may cause a slight swelling, depending on how sensitive the victims skin is. However, caution needs to be taken when more adverse symptoms develop and if this happens to you or a family member, it's a good idea to contact your doctor immediately! I invite you to share this post with your friends and I hope you have a fantastic day! 🙂
Educational Video On Detecting Bed Bugs:

Hello! My name is Natasha, and I have been helping people with their insect problems since 2012. I have published a book, worked with many pest control companies, and helped thousands with various infestations on a one-to-one basis. My goal for this blog is to create evidence-based guides that are easy to understand, provide sufficient depth and can be trusted to be very accurate. Please remember that my guides are for informational purposes only, and that you agree to the terms of use when reading content on this website. If you leave a comment, I typically respond within 48 hours.