Summary: How to get rid of bed bugs? Treating bed bugs involves a number of important steps, starting with proper identification! Finding out what works before attempting any treatments is also critical and there are a number of home remedies for bed bugs that you can use at minimal cost, such as steam and Silica. Lastly, this article will guide you through the prevention process to ensure that they stay away for good!
Bed bugs are a fairly large problem and are a common sight in many parts of the world! If you have dealt with your own bed bug infestation, you would probably agree that they are rather difficult to get rid them effectively, even with the help from exterminators and your public health officers. In addition to finding them in your sheets and under your pillows, you may find them in your bags or even in your clothing, which can often be rather embarrassing. Bed bugs are also annoying and since they can pose a potentially serious health risk, it's very important to learn how to get rid of bed bugs as quickly as possible.
Do You Have Bed Bugs? – How to Check for a Bed Bug Infestation
Firstly, you need to use your basic observation skills! This will be covered in more detail in this article. Look in your bed, under your sheets, on your curtains, under furniture, behind picture frames and even in cracks and electrical plugs in your walls. See the bed bug picture in this post for a close up view of this pest.
Secondly, you need to check for any bite marks on your body. They are usually red in appearance but some people do not react as badly as others. For additional information, visit my article about treating bed bug bites correctly.
Thirdly, check your bed for any dark marks as this is often a tell-tale sign that you have bed bugs. I hope you haven't just finished eaten before reading this because this is fairly gross. These marks are often the after effects of their shed skin, blood and excrement. Make sure that you chuck your linen in the washing machine if you find this!
Bed Bugs – Proper Identification and Facts
Females can lay eggs as soon as they find a suitable place, at a rate of a single egg per day. In their lifespan, they can lay around 200 to 500 eggs. Bedbugs have to crawl their way to their next meal or nesting place as despite having wings, they are unable to fly.
If you are infested, it's possible to have over a couple million bed bugs in your home within a year! It would only take a week for 380 000 of these pests to suck a human completely dry! Imagine the amount of pest control that would be needed in a situation like that!
Bed bugs are usually found in the dark. Much like the vampires from Twilight, it seems that they don't do so well in the sun. They also don't need much food. They can survive without blood for well over a year! But bed bugs

will

actively search for blood, which means that they will find you or your pets if you cannot find them!
There are over 90 species of bed bugs. Some of the more common ones include the "Leptocimex boueti", "Cimex pilosellus", "Cimex hemipterus" and the "Cimex lectularius" (which is often referred to as "the common bedbug"). Bedbugs are also sometimes called red coats, chinches or mahogany flats, depending on which part of the world you are from. A big shout-out to Lou Sorkin from Flickr for some clarification on these. 🙂
You won't find any insecticides that combat bed bugs for your bedding as they are poisonous to humans and animals. Exterminators are known to implement a few natural sprays for effective pest control. However, my weapon of choice is simply steam and we will discuss this!
Many wonder how long it takes to get rid of bed bugs. Research shows that it can take anything from a couple days to a few months, depending on your removal strategy. If you want to ensure that it goes as quickly as possible, make sure that you follow all the steps in this article!
Bed Bugs – Find Them Before They Impact Your Life!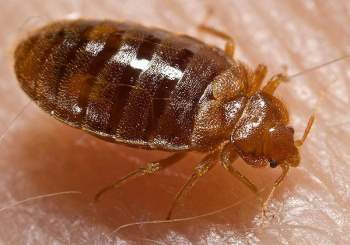 Importantly, the easiest way to locate bed bugs is to use an ordinary flashlight. Professional exterminators often use a small device known as a "pyrethrum" flushing unit that is used to reveal the hiding places of these pests but don't worry, your plain old torch is perfectly fine, provided it's bright enough. The most common place that bed bugs usually lurk is in your bedding so its recommend that you take your bed apart (if this is possible). But what do they look like? You are looking for a light-brown insect (sometimes a red brown if they have fed on blood) that has a rather flattish appearance (very much like the appearance of an apple seed) and about 5mm in size.
Ways That Bed Bugs Get Into Your Home
Inside your bed, behind your baseboards, in your pillows or under your linen (sheets, etc.)
Inside cracks and crevices in your walls and ceilings.
Inside or around your furniture, such as couches and cushioned chairs (this may require you to take these items apart if possible, but trust me, it will be worth the effort).
Behind picture frames, electrical plugs and other wall sockets.
In your clothing, your cupboards or dressers.
Inside or around your couches and cushioned chairs.
On your curtains or hiding in the darkest corners of your rooms, especially under furniture.
Within any close proximity of common living areas, usually as close as a couple meters in any direction.
I have even found a few hiding in the darker corners of the room, often underneath various items that hardly ever get moved. While you are looking for these pests, keep an eye out for any signs of bed bug eggs. They are small and white and although they are hard to see, they also need to be removed as they will be the source of your next infestation!
How to Get Rid of Bed Bugs – Five Simple Steps for Quick Results
If you are a tenant, it's always a good idea to let your landlord know about the infestation as he may offer to help with the costs involved in the removal process. After he or she knows about it, make sure that you vacuum ou entire house as this will ensure that you suck up most of the bugs and their unhatched offspring. It's also recommended that you also vacuum the ends of your curtains. Due to the physical structure of the bed bug legs, they are often difficult to remove from different types of fabrics. You may be required to use a stiff brush to dislodge them from their resting place.
Secondly, if you can afford it, consider getting your carpets steamed as bed bugs cannot survive in temperatures above 50 degrees (120 Fahrenheit). If you want to really want to get rid of them fast, can also pick up a fairly cheap hand held steam blower at your nearest hardware store or supermarket. I have had a few people recommend using rubbing alcohol as this apparently is lethal to these pests. However, after some research, it seems that you have to dab each one which seems like way to much effort for me. I would rather just suck them up with my vacuum 🙂
Thirdly, it's extremely important to wash all your clothes (even stuff that is unused) and use a dryer to kill the bed bugs on them. This also includes your sheets and other bedding. Remember to set it to the hottest possible and for longer than 30 minutes otherwise it's possible the bed bugs will not be eliminated. It's also recommended that you repeat your entire wash load twice. While this may take some time (especially if you have a ton of clothes), it will ensure that you get rid of these bed bugs properly without any chance of any surviving. While your clothing and other material is spinning around in your dryer, spend a little time fixing up any cracks in your furniture, ceilings and walls. As previously mentioned, they are often come from these type of places so it's a good idea to fix them up. Plus I am sure it will improve the overall appearance of your home and perhaps score you a few brownie points with your significant other!
Purchase some food grade Diatomaceous Earth and spread a small amount around your house, focusing on areas you feel that bed bugs may be hiding. The food grade variation of DE is completely non-toxic and this means that you can use it anywhere in your home. Just keep in mind that it makes a bit of a dust cloud during application but once its down, its very effective for bed bugs and diatomaceous earth can even kill fleas. Diatomaceous earth works by dehydrating the bed bugs and has been used by many to get rid of small bed bug infestations. WARNING: Please make sure its food grade and not pool grade as the latter is dangerous to your health and should not be used indoors!
If you are still struggling to get rid of these bugs, I recommend that you call an experienced pest control professional. Just make sure that they are certified to perform the job otherwise they could just end up making it worse. Also keep in mind that return visits may be necessary, especially with larger bed bug infestations so weigh up the cost factor carefully.
As an alternative, you can also purchase an bed bug spray that contains an IGR (Insect Growth Regulator) which will effectively kill bed bugs and stop their life cycle if you have a small infestation. [UPDATE: I have been told by a number of sources that a natural bug spray called Bug Patrol and KleenGreen are fairly effective, however I cannot vouch for them myself as I have not personally used them] As previously mentioned, Diatomaceous is a very useful for bed bug treatment.]
Preventative Measures That Really Work for Bed Bug Control
When it comes to things, like beds and pillows, try your very best to purchase them new, instead of second hand as research shows that this is a common way of getting bed bugs, even if you have a clean, well-kept home. If you borrow or buy something of this nature from a friend or a family member, make sure that you check it for things like bed bugs and other nasty insects that could make your life miserable, not to mention potentially painful.
After I had a fairly bad infestation of these insects, I simply opted to throw away my mattress and start over. While this may be a bit of a shotgun approach, it's sometimes the quickest and cheapest way of doing it, especially if you are thinking of hiring an exterminator. Even if you are not a frequent traveler, it's highly likely that you have encountered bed bugs in hotels and other places when you were on holiday or business. Unfortunately, you cannot personally control these sort of situations and thus, here are a few quick tips to prevent yourself:
Consider attaching double sided tape around the bottom of your bed as shown in the picture. While this is not a permanent solution, if you thoroughly check your bed for bed bugs and use this method, you can rest easy knowing that if those pests try and sneak up on you during the night, they will get stuck and have to spend the night looking rather foolish as they try to escape without success.
Alternatively, you can also cover your beds with plastic, zip locked bed cover to ensure that don't donate any blood to hotel bed bugs.
Lastly, when you get home from your trip, it's a good idea to immediately put your clothing and other material items in the washing machine and into a hot dryer as this will ensure that you do not bring any into your clean house.
In conclusion, dealing with a bed bug infestation is really not that bad if you take the necessary pest control steps outlined in this article. And once you have got rid of these bugs, simply take proactive measures to ensure that they do not return with a vengeance. Always remember that's it's a good idea to first try natural methods that you can perfect yourself before going the paid or chemical route. However, if you do have a bed bug problem that you feel is out of control, The Bug Squad recommends that you consult a professional exterminator as your health and well-being is worth the relief it will bring. If you enjoyed the information presented, please consider sharing this post on FB, Twitter or your social media platform of choice. Thanks! 🙂
Educational Video On Removing Bed Bugs:

Hello! My name is Natasha, and I have been helping people with their insect problems since 2012. I have published a book, worked with many pest control companies, and helped thousands with various infestations on a one-to-one basis. My goal for this blog is to create evidence-based guides that are easy to understand, provide sufficient depth and can be trusted to be very accurate. Please remember that my guides are for informational purposes only, and that you agree to the terms of use when reading content on this website. If you leave a comment, I typically respond within 48 hours.