Each year, bed bugs cause distress for thousands of people throughout the world. If you are one of them, it's critical that you take the necessary steps to get rid of them as soon as possible. While this task is not easy and may even require the assistance of a pest control expert, The Bug Squad has a number of guides to help you where possible and I encourage you to check them out if you are fighting an infestation. However, in this article, we are going to discuss a rather frequent question that I get from my readers about the possibility of flying bed bugs. Can bed bugs fly? Let's find out!
Simple Answer: Bed Bugs Cannot Fly!
Bed bugs rely on crawling or by "catching a ride" with humans (such as in your bags, etc.) if they want to move around, maybe to find their next meal. If you have encountered "bed bugs that fly", chances are high that the insect has been misidentified and it's actually some other type of bug. Personally, after finding out that bed bugs cannot fly, I was fairly relieved. Bed bugs can cause enough problems without having the ability to fly around the house. If these bugs could fly, it would make extermination even more difficult than it already is!
Do Bed Bugs Have Wings?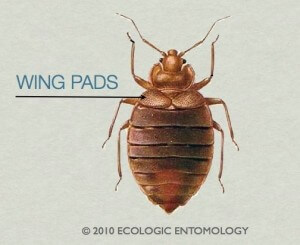 You may have read something online about bed bugs having wings, thus it is a reasonable assumption that they should be able to use them for flight. Do bed bugs fly using them? No, the truth is that once fully matured, an adult bedbug only has wing pads and these cannot be used for flight. They appear just above the abdomen, below the head and as you can see in the picture, they are very small. Just remember that nymphs (baby bed bugs) don't even have those wing pads on their body so looking for wings is not a great way of identifying bedbugs. My thanks go to Ecologic Entomology for the fantastic image that show these pads.
Useful Identification Tips for Finding Bed Bugs
A bed bug has six legs and fairly long antennae. If you find a bloated, eight legged blood sucking insect, it's highly likely that you have found a tick. If you find small bugs that jump away when you try and catch them, you may have found fleas. Mature bed bugs are about 1/4 inch in length and are completely flat, unless they have had a recent blood meal. Baby bed bugs are a lot smaller (about 1mm) and can be extremely difficult to find, especially if they are trying to hide. Bed bugs often conceal themselves in cracks and in other dark, sheltered areas so keep that in mind when you are searching for them in your home. Bedbug bites can be rather painful and although they do not spread disease, I highly recommend that you treat the affected area and seek medical assistance if it starts to swell up.
Busted Bed Bug Myths That You Can Share With Friends
Bedbugs can fly.

False

, this myth was covered in this article, please let me know if you have any questions in the comment section below and I will be happy to assist you. 🙂
The only place you can find bed bugs is on your mattress.

False

, they are often found all over your room so if you find an infestation in your bed, make sure that you investigate other areas as well!
Bedbugs only feed during the night.

False

, they eat whenever they are hungry. If you took a daytime nap on a bed that has a number of bed bugs, they will come for you!
Using a bedbug spray is enough to kill them off.

False

, unless the infestation is extremely small, most sprays won't be enough and can actually cause further problems if used incorrectly. The Bug Squad has a decent bed bug spray guide that you can read to find out more information on this subject.
Bed bugs jump around your house. False, bedbugs do not jump like other insects often do (fleas, etc.)
In conclusion, bedbugs do not fly or jump and usually crawl to their desired destination. However, even though they are not very mobile, they are able to travel long distances by "catching a lift" with humans, either on your body or in your personal belongings. Lastly, despite having wing pads, they are not able to use them for flight and if you see an bug flying around your bedroom, rest assured that it's not a nasty bed bug. I hope that you have enjoyed my article and if you feel I deserve it, please consider sharing this article on Facebook, etc. Thanks for reading! 🙂
Educational Video On This Topic

Hello! My name is Natasha, and I have been helping people with their insect problems since 2012. I have published a book, worked with many pest control companies, and helped thousands with various infestations on a one-to-one basis. My goal for this blog is to create evidence-based guides that are easy to understand, provide sufficient depth and can be trusted to be very accurate. Please remember that my guides are for informational purposes only, and that you agree to the terms of use when reading content on this website. If you leave a comment, I typically respond within 48 hours.