Summary: Where do fruit flies come from and how do they find their way into your home? Fruit flies need a good source of food, both for the adults for their their young. If this problem has suddenly appeared, you kill them as quickly as possible as they carry bacteria and pose a few health risks.
The truth is that even those that keep their homes clean can get fruit flies. As a result, wonder where are flies coming from, despite their effects to keep things tidy. Much to the dismay of shop owners and restaurants, they also have a continuous battle to fight against these creatures if they want to keep themselves and their customers free of these bacteria ridden insects. It seems that fruit flies appear overnight and it can be very difficult to get rid of them as they breed very fast. However, a little bit of education and understanding as to the makeup and behavior of fruit flies, you will be able to effectively fight this infestation properly. I will give you all this information so you are in the right place to learn!
Where Do Fruit Flies Come From?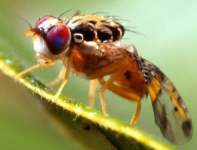 About 100 years ago, many people believed that fruit flies come from something known as "spontaneous generation" as they always keep to appear from nowhere without any apparent warning or signs of breeding. Since their tools where limited, this ideology was not limited to the common man and was even promoted by the scientists of the day. However, due to increased technology and education, we now know that fruit flies do not magically appear in your home without following the basic steps of reproduction. They have successfully been analyzed for over a century and we now have all the answers that troubled early scientists. One major aspect of their breeding process is that its extremely fast and is one of the reasons why a fruit fly problem can sneak up on you without warning. As a result, its very important to educate yourself about where do fruit flies come from and how you can put an end to their infestation without causing further risks to you and your families health.
What Do Fruit Flies Look Like?
Once you have made up your mind to get rid of  your fruit flies in your home or work place, the next step is to be able to easily identify them. Although its easy to know what they look like when they are sitting on your fruit in your kitchen, that wont help you when they are breeding outside. So what does a fruit fly look like?
As you can see in this picture, fruit flies are rather small creatures and usually reach a maximum size of about 1/8 of an inch. If you are not too good at imagining that, just remember that about three fruit flies together will be the same size as one regular house fly. This is the quickest way to identify them and differentiate fruit flies from normal flies. Other characteristics include a brownish body (sometimes getting darker in some of the fruit fly species) and a black abdominal region. They also usually have bright red eyes that give away their true identity to those seeking to kill them. There are many types of fruit flies and according to the latest count by biology experts, there are about 175 different species in Northern America and about 3000 different variations globally. The reason why there are so many is because scientists have used the advanced methods to crossbreed species in an effort to understand their biological makeup and as a result, there are now even more species of fruit flies then there was originally in nature.
How Long Do Fruit Flies Live and How Do They Breed?
There are four fruit fly life cycle stages. They are ordered chronologically as follows:
Once the mother has found a suitable nesting place (such as your lovely fruit bowl) and the room temperature is around 21 C, she will lay her eggs (they are similar to a flea eggs appearance but are quite a bit larger) which hatch after about 24 hours. As you can see, due to the speed at which these eggs hatch, you could literally be completely free from fruit flies in your home and then the next day, you could have a serious fruit fly problem. This rapid rate of reproduction is actually a major reason why fruit flies are rather difficult to get rid of and its best to catch the infestation as early as possible.
After the previously mentioned 24 hours, the larvae will hatch and will start feasting on the surrounding food. As we can see in this picture on the left, they look like white worms and are often referred to as maggots. Please note that at this stage, they look exactly like the larvae from regular house flies. However, once they change into fruit flies, there are some key characteristics that differentiate them from normal flies and I will be writing an article on where do gnats come from to elaborate on the details in the next couple weeks.
During this phase in the fruit flies development, the larvae is changing into a fruit fly inside a hardened outer shell. (otherwise known as it's metamorphosis) Its easy to see when this is about to happen as the hardened outer shell of the larvae begins to change into a much darker color, as shown in the picture. After a short amount of time, you will have a fruit fly buzzing around your house, eating your fruit and sitting on your lovely meals. This needs to be avoided and its important to identify these signs as early as possible.
And finally, we have our fruit fly and all the problems that these pests can cause in your home or office. The scary thing is that within 60 hours of coming out of its shell, the females are able to lay up to 500 eggs. And within another 48 hours, those 500 eggs will become fruit flies. Even if only half of those are female, they each can lay 500 eggs EACH after another 60 hours. And remember, that they will eat almost anything that is rotten, especially your fruit.
I am sure you can see that within a very short time, you can have a huge infestation on your hands. It is especially important to be extra clean around the house (or office) if you are going to be away for a couple days as you could come back to thousands of fruit flies flying around and I am sure that you don't want that.
Just remember the basics of keeping your house clean, throwing away unused or rotten food (and disposing of your garbage as soon as possible). If you already have a fruit fly problem, I highly recommend that you give my previous articles a read. After that brief explanation of the process of where these flies come from, I am sure that its answered some of your questions about possible fruit fly remedies. Thanks for reading my latest article on the origin of fruit flies and I look forward to your comments or any input you may have. 🙂

Hello! My name is Natasha, and I have been helping people with their insect problems since 2012. I have published a book, worked with many pest control companies, and helped thousands with various infestations on a one-to-one basis. My goal for this blog is to create evidence-based guides that are easy to understand, provide sufficient depth and can be trusted to be very accurate. Please remember that my guides are for informational purposes only, and that you agree to the terms of use when reading content on this website. If you leave a comment, I typically respond within 48 hours.