Summary: While a flea collar can kill fleas, they are potentially dangerous for your pet and don't usually protect all areas of their skin. Its recommended that you seek alternative treatments such as a spot on treatment, flea shampoo, natural remedies or rather just seek professional assistance. You have been warned, be sure to share this article with your friends and family to help them!
If you pet has fleas, chances are that you have heard about using flea collars and may have wondered if they really work. In short, they have been proven to to kill fleas. However, what many people do not consider is their safety and presume that since they are commercially available, there is no chance that they are dangerous for your dog or cat. I am going to cover all the facts in this article so that you can learn the truth about these collars before making your decision on how to treat the fleas that are bothering your pets. Once your pet is free of fleas, remember that you can make a flea trap to kill them in your carpets and other places.
How Does a Flea Collar Work?
Before making a purchase, remember that there are two different types to choose from. I am not talking about specific brands but rather about how the collars actually work to get rid of fleas on your pets. If you decide to purchase one of them, please be sure to get them from a certified pet store as I have seen a number of them popping up on shelves at supermarkets and they are often very low quality. As a side note, these collars are always attached around the neck of your pet so keep that in mind during this guide. Lets have a quick look at both variations.
High frequency collar – These work by sending out an ultra-sonic sound wave that "scares" fleas away. Despite a number of positive reports, I remain slightly doubtful and haven't had much success with these electronic collars myself. However, I must admit that I haven't use them for very long so if you have had any good (or bad) experience with them, please let me know so I can share it with others.
Gas based collar – These create a gas based toxin that repels fleas from your dog or cat. It kills fleas on contact, provided they actually come near the collar. In other words, its not going to affect any fleas if they are not exposed to the limited area around your pets neck. However, the good news is that fleas are not that intelligent and won't know about the gas (they cannot smell it or anything) so they may be exposed to it and "expire" on the spot!
Absorption based collar – These also contain insecticide but instead of "floating around" your pets fur to keep the fleas away, it actually gets absorbed into their skin. When its fleas dinner time and they start nibbling on your pet, they are killed by the poison. However, exposure to this poison has left many wondering about their pets safety. Is it really something to be concerned about?
Is There A Natural Pet Collar That You Can Use?
Yes there are and these are the only ones that I would recommend for your cat or dog, especially if you have noticed a couple flea bite scars or marks on your pet recently. These types of free from insecticides and rather make sure of flea repellents such as rosemary oil. However, remember that you can always apply these repellents onto a collar yourself and save some money in the long run. Just don't use a large amount, just a few drops is sufficient and always remember that if you are unsure, simply drop me a message in the comment section below or contact your closest vet. However, for the rest of this article, we are going to explore the facts about insecticide based collars so keep that in mind.
Are These Collars Safe or Can They Be Dangerous for Your Pets?
Disclaimer: This information has been collected based on reviews, customer feedback, research and personal experiences using a these products. I have nothing against those that sell them but I refuse to hide the truth.
To start this discussion off, I just want to outline some of the points made by a reputable flea treatment company about their flea collar products. Feel free to express what you think about these facts with your friends. 🙂
Dangerous for pets and humans. (this should be enough but read on)
Keep away from skin as it can be very harmful to you (if absorbed).
Use soap to completely wash away toxins after touching the product.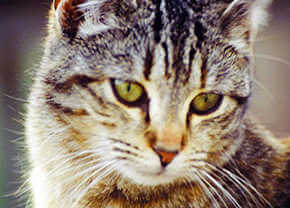 As you can see, there is no need to use your imagination to understand the potential consequences when using one of these collars. While those points are mainly aimed at protecting humans (except the first point), are pets somehow immune to the negative effects of insecticide? Absolutely not! In fact, it makes me angry that a number of chemicals have been identified as dangerous (for pets and their owners) by the Natural Resources Defense Council and yet they are still found in shops throughout the world. And to make matters worse, most people don't even know about the dangers! I spent some time looking for people that have used flea collars in the past and here are a few startling statements I found while searching on the net:
Disclaimer: This information has been collected from other peoples experiences. I have no way of proving the truth in their words but there are not many reasons why they would take the time to lie about something like this. Also, it is not known if their pets had any preconditions. I am sure that there have been a number of positive treatments but the vast majority of people seem to report negative results. This is not meant to be a morbid discussion but rather is needed to outline the dangers. I am not suggesting that you will have the same experience as those mentioned below but it's a good idea to keep them in mind. Lastly, I am keeping this information free of brand names, its up to you to research your product of choice.
"My family used a flea collar from **** to treat my dog's fleas problem and it passed away a few weeks later."
"After using a one of these collars, my cat literally vomited all night and I had to take it to an emergency vet to treat him"
"My cats pancreas started to shut down because of a build up of poison from a flea and tick collars"
"My pet suffered a high temperature after wearing a collar for fleas for a couple weeks."
"This collar poisoned my cat!!"
"The collar made the flea problem worse!"
"My cat lost hair around his neck from these collars"
Are Flea Collars Actually Effective for Flea Control?

Many have argued that unless you use them on your pet for an extremely long time or fail to fit it correctly (so that your pet licks it or something to that effect), there is no real danger. While this is partly true, I personally wouldn't take the risk but again, that is completely your choice. I must admit that even the best flea collars are very cheap and thus are a fairly popular option for flea control. Do they kill fleas? As previously mentioned, if the fleas come into contact with the poison, they will die. However, is the potential health risk to your pet worth it?
A Few Warnings Before You Use A Flea Collar For Cats
If you are still interested in purchasing an cat flea collar, here are a few important things to take note of:
For treating cats with fleas, make sure it doesn't contain a chemical called "Permethrin" as this synthetic material is very dangerous to cats. The sad thing is that these chemical is still included in a few brands so make sure that you check this out before making any purchases.
While this one may be fairly obvious, DON'T use the same product that you use for dogs on your cat! The collars for dogs have a higher level of chemicals to fight fleas and this can be very dangerous! Likewise, if you have a kitten, make sure that you purchase one that is correct for its size. However, I highly recommend using natural flea control for kittens as they are very sensitive to insecticide.
Be sure to purchase one that has some elasticity so that it can stretch. Why is this important? Well, cats are usually explorers and often find themselves trying to fit through small places or perhaps taking some time to climb a tree. If the collar you purchased for your cat is not flexible, you run the real risk of your cat strangling itself if it gets stuck on a branch or something like that. This is actually why many cat owners purchase elasticated collars (not only the flea ones) to ensure that this doesn't happen.
Although you want the collar to be a bit "stretchy", please make sure that it fits well otherwise it may fall off or even allow your cat to bite it, which can obviously have negative consequences. Its also good to check for flea dirt on your cat before using any flea products.
Flea Collars for Dogs – Warnings for Your Doggy Friend!
Here are a few important facts you need to keep in mind when trying to kill fleas on dogs.
Ensure that it doesn't have a chemical called Tetrachlorvinphos (TCVP). It has nerve damaging properties and can be very dangerous.
Make sure that the flea collar is free of Propoxur as this has cancer properties, something you definitely want to avoid!
Don't use flea collars on your puppy. Much like kittens, when pets are small they are fairly susceptible to harmful insecticide and thus you are better off looking at a few natural ways to get rid of fleas on them.
In conclusion, its unlikely that a single collar is going to have disastrous consequences. However, the vast majority of them, with the exception of these natural ones I mentioned in the beginning of this article, have rather dangerous insecticides that are not good for your cat or dog. Even if it doesn't cause any fatalities, most of them are damaging to their health and based on my experience, I feel that other flea treatment alternatives should be used. Dr. Solomon made an good point when he said "We really want people to reduce exposures because they're not necessary" so while the choice is still yours to make, I highly recommend taking some time to consider these facts before making a decision on what you feel will be best. As a final note, one good use for a flea collar is to place one in your vacuum machine bag (if it is not water based). When you are cleaning your home (especially if you have pets) and a few fleas get sucked up, they will die and not get a chance to escape. I hope you have enjoyed this article and I encourage you to share this with your friends. Thanks 🙂

Hello! My name is Natasha, and I have been helping people with their insect problems since 2012. I have published a book, worked with many pest control companies, and helped thousands with various infestations on a one-to-one basis. My goal for this blog is to create evidence-based guides that are easy to understand, provide sufficient depth and can be trusted to be very accurate. Please remember that my guides are for informational purposes only, and that you agree to the terms of use when reading content on this website. If you leave a comment, I typically respond within 48 hours.