Summary: I personally recommend using dawn soap and water to kill fleas, and then some lemon juice to keep them away. However, this does require more effort than using a spot on treatment (which can last for 30 days) and if time is a factor, that might be a better option for you. Either way, these little pests feed on your dog's blood, can cause stress due to frequent scratching and generally just make life horrible for your dog, so it is always a good idea as a responsible owner to get your pet treated as soon as possible.
Remember that although fleas prefer animal blood, humans can get fleas and I am sure that is the last thing you want after giving your dog friend a cuddle, playing with him. My goal with this article is to help you identify fleas (no use treating for fleas if there are none) and list a few product based and natural options that are affordable and are very effective. Remember, if you have any questions about this article or have a bit of a flea problem at home, I will be happy to help you in the comments section so drop me a message.

Before Treatment, Look For Obvious Signs of Fleas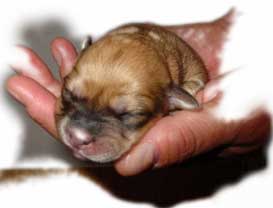 Before starting a flea treatment, I recommend that you take a moment to check for signs of fleas, otherwise you could be stressing for nothing. Fleas look like tiny brown insects (or slightly red if they have fed recently) that are about 2.5mm in size. If your dog has been scratching on a regular basis (their bites can make their skin itchy, like mosquito bites on humans), I recommend that you start off by looking around their tail, on the belly and the underside of the legs, as the fleas often hide out in these areas. Keep an eye out for red inflammation, as this could be a sign of flea bites, which is another obvious sign.
Sometimes pet owners (myself included) are oblivious to insects that find their way onto bed linen and blankets. As a perfect example, a couple weeks ago I only realized my dog had fleas because there were a few jumping around on the bed (yes they jump, not fly). With this in mind, I recommend your next step (presuming that you didn't find the fleas already) should be to take a look at your dogs sleeping areas, such as blankets, beds, play areas, etc. Fleas often fall off their victim and if your dog has a flea problem, chances are good that you will find them here.
Lastly, before you start trying any of the treatments, I recommend that you look for something called "flea dirt". Even if your dog hasn't got fleas, or any bites from these little pests, if you find this it is possible that there is a flea problem in your house or garden. As outlined in the article (click on it for more details), this is actually flea poop and to make double sure that it isn't just regular dirt, put it on some white paper and apply a little water (it will turn reddish in color).
The Best Spot On Products for Treating Dogs with Fleas
Frontline for dogs is a fantastic product that works well. Just remember that it's for external use only and you need to make sure that you get the correct type for your dog. Simply look on the front of the packaging and search for the weight requirements and choose the correct one based on the size of your pet. If I was going to use a flea poison for my dog, I personally feel that this is one of the best product based flea treatment methods for dogs and it definitely does its job well!
The Advantage flea treatment range is another brand that you can trust. Follow the same guidelines as the Front-line product and make sure you pay attention to the instructions carefully. Also remember that when dealing with these products, its always a good idea to give your hands a good wash afterwards as the flea poison that might be left on your fingers can make you very sick if ingested.
The Best Natural Dog Flea Treatment (Recommended)
You can use warm water mixed with Dawn dish soap to kill fleas instantly. You can find the steps in my article, just click on the link. I have personally used this method (frequently) and I think that it is the best natural flea treatment for fleas on dogs. Just make sure that you don't do this every week, as it can make the skin rather raw as it strips the natural oils from the skin.
To deter the fleas after this wash, I recommend that you apply a little lemon juice to the fur every 2-3 days (until the flea problem is sorted, more on treating your home later). This can easily be done with a spray bottle, water and some fresh lemons. Your dog may not be too impressed but it works very well.
I have recently written an article on dipping your cats and dogs for fleas. Although the guide covers both commercial and natural options, there is a big focus on using products that don't contain harsh chemicals. If you are interested in doing this yourself, I have also included the process that you need to follow, and it only takes about 20 minutes. Check it out!
If You Find Dog Fleas, Treat Your Home As Well
After treating your pet, take some time to clean up the home. This may involve giving your pets blankets (or even your linen if it has been affected) a hot wash. This ensures that the adult fleas are killed and do not find their way back on your dog or even you!
You can use a couple natural powders that have been proven to help with flea infestations. Using borax for fleas or getting some diatomaceous earth to kill fleas in your carpets, etc. has helped thousands of people that have visited The Bug Squad and can help you as well so give it a try!
Get yourself a flea spray that contains an IGR component. This ensures that the flea life cycle is halted and the baby fleas (even fleas that haven't hatched yet) are killed. I have found that the Comfortis flea control products to be excellent in this regard. However, most of the well known brands contain this component. NB: Please note that this flea spray is NOT for use on your dog!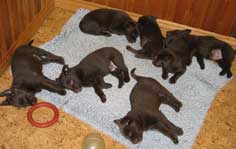 Proactive Approach to Flea Control for Your Dogs
Always remember that the best way to protect your dog from fleas is to put in preventative measures so that it doesn't get fleas in the first place. I understand that this is not always possible and even if you are very careful with your pets, it is almost impossible to completely avoid any possibility of your dog getting fleas sometime during its time with you. However, there are a few steps that you can take to improve your chances of keeping fleas away.
Keep your lawn trimmed and remove excess foliage around your yard. Fleas often come from outside the home and doing these tasks will reduce the chance of a flea infestation in the yard. This will also ensure that your dog is protected from a potential flea problem in these areas. You can also purchase cedar wood chips and spread them in dark and damp areas to keep fleas away!
If your dog has any interaction with other animals (especially if they are not your own, such as the neighbor's dog), take a few moments to ensure that there are no fleas on him or her before bringing your dog back inside. This proactive approach allows you to stop a flea infestation by identifying it quickly and dealing with it immediately. If you know that there were animals near your dog that had fleas (such as another pet), make sure you give your dog a wash with dawn soap and hot water to stop those fleas dead in their tracks!
Readers Ask: Can Fleas Kill A Dog?
I often receive questions via email (and in the comments section) from readers that tell me that their dog got fleas and they are worried it may die from blood loss. Although I am not a vet, I feel that this is almost impossible, simply due to the negligible amount of blood that is drawn by these little pests (even if the dog has lots of fleas).
However, that is not to say that fleas can be ignored, as it is possible for an infection to cause major health problems in some fairly isolated cases (especially with continuous, vigorous scratching). The reality is that if you take action as soon as your dog has fleas, you should be fine.
That being said, as a dog owner you should always be looking out for lethargy, pale gums, general disinterest, etc. and if that happens, please take your dog to a medical professional immediately. It is not worth taking any risks if you notice major changes like this (please!).
In conclusion, finding the best flea treatment for your dogs is really dependent on what route you want to take, namely a natural or a poison based one. Both have their advantages and disadvantages but as always, I highly recommend trying the natural approach before purchasing the products suggested in this article. While flea products tend to give you a quick fix, just be careful of using any sort of poison as it can potentially harm the health of your animal as well as yourself. Thanks for taking the time to read this article! 🙂

Hello! My name is Natasha, and I have been helping people with their insect problems since 2012. I have published a book, worked with many pest control companies, and helped thousands with various infestations on a one-to-one basis. My goal for this blog is to create evidence-based guides that are easy to understand, provide sufficient depth and can be trusted to be very accurate. Please remember that my guides are for informational purposes only, and that you agree to the terms of use when reading content on this website. If you leave a comment, I typically respond within 48 hours.