Fighting fleas can be a nightmare! To make matters worse, there are so many different opinions on how to treat them that it's probably left you rather frustrated. Perhaps you have tried flea collars or maybe even a few natural methods and didn't have much success. While each case is different, your primary goal should be to get rid of them as soon as possible. If you have done a little research, you have probably come across many articles suggesting the use of borax for flea infestations and may have wondered if it's a good solution. Unfortunately, there is a lot of incorrect information on the internet and as a result, I decided to put together a reliable guide that will put things in perspective and give you all the necessary info to help you make an informed decision about using it for flea control. I highly recommend that you take some time to read this entire guide and I invite you to ask any questions you may have in the comment section and I will try get back to you within 24 hours. If you would like to skip right to the removal steps, feel free to click here.
Is There a Difference Between Using Boric Acid and Borax for Fleas?
Yes, and the difference is very important! Borax (sometimes called "Disodium Tetraborate or Sodium Tetraborate on product labels") is mined from the earth as a complex form of boron bound with other minerals (such as sodium), while Boric acid does not occur naturally in nature, but is made from borax by adding an acid such as hydrochloric acid) and water to the solution. Since boric acid contains this mixture, it significantly increases the toxicity level and I don't recommend that you use it for DIY flea control.

Borax looks very much like salt. However, this salt is NOT the type that you would use on your food but rather is a substance that can be used for killing a variety of pests and other nasty insects. The powdered form is even used in some cleaning agents.
Does Borax Kill Fleas? How It Works And Safety Tips
Based on my personal experience and feedback from my readers, using borax really works. The powdered form has absolutely no smell and doesn't get absorbed by the skin when touched. It kills fleas by acting as an extreme dehydrate and by making tiny cuts in their exoskeleton which results in their eventual death. It can even be used to prevent small larvae that hatch but unfortunately will not help you get rid of flea eggs. That step will need to be done separately and I will be more than happy to help you with this process after you check out my guide on this topic. 🙂

In fact, since borax is naturally occurring substance, it's fairly safe for your family home. Remember that borax is significantly less toxic then most flea insecticides and products. Even though it has a low level of toxicity, here are a few warnings to keep in mind before you start using it:
If you are pregnant, please stay away from

any Borate substance – this includes borax!

.
Keep your cats away from the borax powder as it can cause terrible breathing problems and potential fatalities.
Make sure your carpets are not wet (even from humidity) as this can damage the fibers and cause discoloration.
Keep the borax powder away from food (especially if you have young children) as it is dangerous for consumption in large quantities. (more than 5mg). I have recently been informed by a medical practitioner that anything around 5mg is still pretty safe (slightly higher toxicity then table salt). However, keep in mind that cats are rather sensitive to borax so just take it easy if you have one in the home.
Keep the borax away from your plants as it can cause damage to them.
NEVER put the borax powder directly onto pets, even if they have fleas. Borax is used to get rid of fleas in your home and using borax on dogs for fleas (as well as other pets) can be dangerous for their health!
Don't scatter borax powder for fleas around your home as a flea preventative because prolonged environmental contact can potentially cause health problems like skin irritation and other allergies. If in doubt, contact a health practitioner if you notice any adverse reactions after using borax in your home.
Don't use this powder if you have small children (especially babies) or young pets (unless you keep them out the house for the day) as it can cause health complications due to their small body mass and close proximity to the ground.
Borax Powder or Boric Acid – Which Works the Best?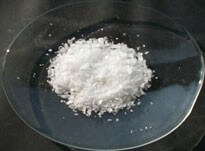 While both of these compounds are effective for pest control, boric acid is not family safe, so I recommend that you exclusively use the powder.
I have had this discussion with many of my readers, with some swearing by the use of the acid, but again, I cannot comfortably recommend something that could be potentially dangerous. As for choosing a specific brand, I know that Mule Team borax for fleas is very good product that you can try.
Where To Purchase Borax Powder?
I have had a number of people asking "where can I buy borax?" and have found that the easiest place to purchase it is Walmart. Alternatively, you can try your local supermarket or order it online from a reputable vendor. Unfortunately I don't sell it but if you drop me an email with your location I will try and find a local seller for you 🙂
How to Use Borax to Kill Fleas – 3 Simple Steps
Before you start using borax, please make sure that you have read the warnings section of this article. Additionally, please note that while extensive research and experience has been put into this article, The Bug Squad is not responsible for any adverse reactions or poor results.
Step 1: Sprinkle borax powder on your carpets and in areas where you have a major flea problem.
Step 2: Give the carpets a good brush with a stiff house brush or broom. This helps the borax powder get down deep and reach any fleas that may be hiding themselves from your wrath.
Step 3: After at least 24-48 hours (longer is better), vacuum your carpets thoroughly, spending extra time in areas where you used borax.

It's really as simple as that. Just remember that you will also need to treat your pets for fleas (don't use borax though). Here is a great guide on dog flea removal and how to safely kill fleas on cats. Will borax kill fleas immediately? Not likely. But if you stick to these steps, they will die after a couple days so be patient!
Other Interesting Borax Uses
Besides being a great substance for killing ants, fleas, bed bugs, roaches and other pests, borax can be used to make amazing crystalline structures that are absolutely awesome. Borax can also be used to preserve animal pelts, protect and age wood and even is an important part of glass production. Recently I was sent an article about how borax can even help cure Arthritis While I cannot verify the truth of that linked article, it's definitely interesting that such a simple compound can have so many uses.
Borax Fleas Treatment Alternatives
A great alternative for borax flea control is food grade diatomaceous earth. The application is the same as listed in the directions above and it's completely natural and safe for your family. While borax may give you quicker results, if given the choice between the two, I will always choose diatomaceous earth and if you haven't had the opportunity to try it out, I highly recommend doing so. 🙂 You can also use dawn soap to get rid of fleas on your furry pets, and although it doesn't keep them away, it provides instant results.
Finally, if you are looking for an alternative, plain old table salt and baking soda have also proven to be a valuable weapon against fleas in carpets. I have personally seen good results using this method and if you are on a tight budget, this may be your answer for cheap flea control.
In conclusion, does borax kill fleas? Absolutely yes! while there are a few risks for using borax fleas treatments, it's definitely a great option for effective flea control in your home. However, it's also important to treat your pets with a decent spot on product (such as Front Line) to ensure that you get rid of all the fleas and don't have another generation of these pests invading your home. I also recommend performing all the flea removal tasks on the same day to ensure that you kill them all without any chance for potential reproduction between treatments. Remember that you can also make a few flea traps to get rid of them in your carpets. I hope this guide has been informative for you and if you have enjoyed it, please share it with your friends on your social media platform of choice. Thanks for reading my guide on using borax for flea removal!

Hello! My name is Natasha, and I have been helping people with their insect problems since 2012. I have published a book, worked with many pest control companies, and helped thousands with various infestations on a one-to-one basis. My goal for this blog is to create evidence-based guides that are easy to understand, provide sufficient depth and can be trusted to be very accurate. Please remember that my guides are for informational purposes only, and that you agree to the terms of use when reading content on this website. If you leave a comment, I typically respond within 48 hours.