If you love to keep a lovely bowl of fruit out for your family like I do, it is likely that at some point you have had to deal with fruit flies. These little pests are very annoying, and can be a little embarrassing if you have visitors, but are they something to worry about? Are they dangerous, can they bite or even spread disease? Let's find out!
Can fruit flies really bite your skin?
The good news is that the answer is no, fruit flies cannot bite you or your family, and they don't eat blood. Based on my research on their physical characteristics, they don't have teeth or anything that could pierce your skin. In order to consume their regular meals of fruit, vegetables and other decomposing matter, they push out a catabolic fluid that helps break down their food, and then use their mouthpiece to suck it up.
But I have evidence? I have had a number of people in the comments section mention that are adamant that a fruit fly has bitten them in the past. If that sounds like your situation, it is likely that you were bitten by another insect that might have looked like fruit fly. For example, certain species of gnats and other tiny flies are quite capable of giving you a little sting if they think you might taste good. Either way, rest assured that those fruit flies buzzing around your kitchen are not going to leave any bite marks on you.
Does this mean that fruit flies are harmless?
Although they cannot bite, that doesn't mean that you should just ignore them in your home (even if you are capable, I cannot rest if they are always flying around my head). Since fruit flies spend their says feeding on various decaying matter, which unfortunately sometimes includes stuff found in drains, in the garbage and even old pet food, this means that they often carry around bacteria that can make you sick. Coupled with the fact that they might move to your fruit bowl after wallowing in that filth, you definitely want to get rid of them as soon as possible.
There is another concern, and that revolves around their reproductive cycle. If you are a busy person and just can't seem to find time to sort these little critters out (trust me I know, life can get hectic sometimes), they can start multiplying at a scary rate, especially if they have an abundant supply of food nearby. So while the odd fruit fly or two buzzing around my kitchen doesn't bother me too much, I always take action to stop them in their tracks as soon as possible.
Reality Check: I absolutely hate it when writers sensationalize their content, so I want to make something quite clear. For the vast majority of people, fruit flies pose no danger to humans. Although it is possible that they can carry dangerous bacteria, unless you have small children, or perhaps have a compromised immune system, please don't stress about fruit flies. I am not suggesting that you just ignore them though, as they can be very annoying. Let's look at what you can do about bites and an infestation.
Three steps that will help with an infestation
In addition to making yourself a fruit fly trap, there are several things that you can do to eliminate the reason why they are in your home in the first place, namely to find and consume food. The goal of this section is to keep my recommendations compact, as I already have a dedicated article that covers getting rid of them. In no particular order, this is what you can do:
Step 1: Clean your kitchen – This is intentionally rather broad, but to be perfectly honest, you should already be taking out your garbage, cleaning your surfaces, mopping the floors and cleaning up any spilled food or drinks. If your kitchen is a bit dirty from, um, lets just say a little laziness, clean up your act as this is probably the reason why you cannot seem to get rid of the fruit flies in the first place.
Step 2: Seal up your bins – I recommend that you get yourself a bin that has a closable lid. It doesn't need to be anything fancy, just tight enough so that fruit flies cannot get themselves inside and feast on your leftovers. To make it even harder, you can put that bin inside of an empty cupboard in your kitchen (if you have a spare one). Lastly, don't forget about your trash bins outside, they should also be tightly closed and ideally a little distance from your house.
Step 3: Clear your drains – Don't worry, you don't need to call in a professional for this step (unless they are really clogged). To get rid of lurking insects and most bacteria, simply pour about 33oz of vinegar down each drain in your home. Don't skip your outside drains, as they will also benefit from this treatment. A number of my readers have asked about using bleach, and although it does work, I don't recommend it due to things like septic tanks and potential damage to your plumbing.
What if you have red "bite" marks from fruit flies?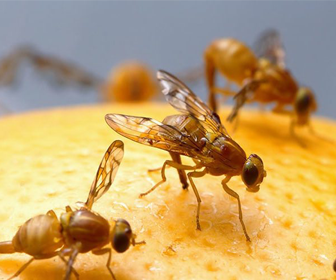 Before you throw your hands up and start getting aggressive in the comments section, I am aware that it is quite possible for them to leave reddish blemishes on your skin, but these are not bites! As mentioned already, these pests usually carry some sort of bacteria with them, and if you have especially sensitive skin, this is the reason why you might suddenly be itchy and sport little marks where they landed. What can you do?
Wash the affected area: No need to overthink this, just grab yourself some soap and wash red marks that were left behind by these little pests. Please don't scrub the area, as this can make your skin raw, just rub it gently with a clean cloth.
Apply a little vinegar: Apple cider vinegar is known for its ability to reduce inflammation and kill bacteria. Additionally, it will provide almost instantaneous relief to your itchiness. You can also try a lotion that contains calamine, as I have personally found it to be very effective. You can repeat this treatment for 2-3 days (if needed).
PRO TIP: If the swelling or itchiness does not subside, please seek medical attention. It is possible that you were bitten by another insect, and due to the fruit flies in your home, incorrectly thought that it was from them. As a general rule of thumb, never ignore anything that is causing lingering problems and try your best not to scratch the affected area.
Final words and a quick summary
Fruit flies do not bite: Even if they wanted to, these little insects could not bite you. Their mouth is designed for sucking, not piercing through your skin, and it definitely cannot get through your clothing. If you have red marks on your skin, it is possible that you are sensitive to their saliva, the bacteria they were carrying, or a completely different pest has bitten you.
Solution for red marks: To help soothe your itchy skin, I recommend that clean the affected area and then apply a little ACV (Apple cider vinegar). This should work almost instantly, but feel free to reapply it every couple hours for 2-3 days. If the itchiness and inflammation do not subside after each application, please seek the help of a medical professional.
Tips for an infestation: Although fruit flies are usually harmless, that doesn't mean that they are not annoying and since they hang around decomposing matter, have the chance of carrying a little bacteria. I have an article that covers this in detail, but cleaning your kitchen, sealing your bins and clearing your drains will provide you with some immediate relief.
That about wraps this topic up, thanks for reading it to the end! I also have written a guide on where these pests come from, so check that out if you are curious. I hope you have found this article useful, feel free to ask me questions in the comment section below. 🙂

Hello! My name is Natasha, and I have been helping people with their insect problems since 2012. I have published a book, worked with many pest control companies, and helped thousands with various infestations on a one-to-one basis. My goal for this blog is to create evidence-based guides that are easy to understand, provide sufficient depth and can be trusted to be very accurate. Please remember that my guides are for informational purposes only, and that you agree to the terms of use when reading content on this website. If you leave a comment, I typically respond within 48 hours.