Summary: To effectively fight a fruit fly infestation, the first step is to identify where they are coming from. Once discovered, you can use things like bleach (for drains), a DIY trap and a few other methods to get rid of the fruit flies. However, as outlined in this article, fruit flies are usually getting into your house for a reason, and once you sort that out (such as rotten fruit, removal of rubbish, etc.), the problem can often go away by itself.
Fruit flies are often a major problem during the hot summer months. Even during the winter, you may have a fruit fly problem if you are not careful. Losing the battle against these pests, especially when its humid and hot can not only be irritating but can also pose a potential health risk due to their exposure to rotten fruit, animal (and sometimes human) excrement and bacteria ridden garbage. Many people feel that its impossible to effectively fight an infestation of fruit flies. However, there is no need to worry or to stress, as this guide will show you how to do this quickly without disrupting your daily schedule or damaging your monthly budget.
I highly recommend that you follow the removal process in the same order as outlined in this article (starting from step 1) and to do all of them on the same day. This shouldn't take you too long and the relief will be worth it! Speaking of which, I have had many readers asking about how long it will take to get rid of their fruit flies, and although each situation is different, you should start seeing positive results in 2-3 days with this guide.
Can Fruit Flies Eventually Go Away By Themselves?
Yes, once you have removed the reason why they are finding your home a great place to live, their numbers will slowly reduce and eventually you won't have a fruit fly problem anymore.
However, I don't recommend this passive approach, as it can take much longer than it should (2-3 days vs 1-2 weeks). Your best bet is to follow the steps in this article (don't skip any steps) and then make yourself a fruit trap, which you can place in any rooms where you find fruit flies. Don't worry, this trap is easy to make and you can find my guide by clicking here.
Step 1 – Get Rid Of The Fruit Flies In Your Kitchen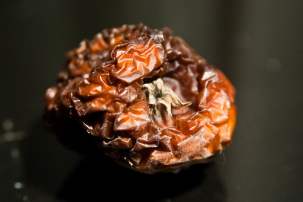 The first step is to remove any rotten food (especially fruits and vegetables) that you may have in your house. Although these are usually found in the kitchen, its worth your while to thoroughly check the entire house for old food that may have been left lying about (check under the fridge, couches, beds, etc.).
At this stage, you have a fruit fly problem, so even if your fruit or vegetables are slightly overripe (especially if it has bruises), it needs to be thrown away immediately. Yes, this is a bit of a waste of food, but if don't want to throw it away I hope that you are hungry, because then it needs to be consumed. 😉 On a side note, if you often find that you have uneaten food that goes bad on a weekly basis, might be an opportunity to rethink how much is purchased in the first place. If you don't, the fruit flies will continue visiting your home, laying eggs and you will have a seemingly endless fruit fly infestation.
The removal of waste is a critical part of keeping fruit flies under control, but sometimes putting food into the rubbish bin is not good enough. Garbage bins are a breeding ground for fruit flies as they often can get inside and feast without you even knowing about it. If you can't take your rubbish bags out every single day, I highly recommend that you put the offcuts from meal preparations into a smaller plastic bags, tying them up and putting them inside your main garbage bin. This will greatly reduce the chance of a fruit fly infestation as they won't be able to reach the food as easily as before.
Make sure that your dishes are always clean as dirty dishes eventually attract bacteria, which in turn will attract fruit flies, which will make killing these fruit flies in the kitchen very hard. Remember that fruit flies are especially attracted to sugary food and drink, so make sure that you wash these plates and cups as soon you are finished using them.
As a general recommendation, make an effort to keep the kitchen clean at all times (get the entire family on board with this). Having clean surfaces, floors, etc. is not only beneficial for everyone's health, but it will also reduce the possibility of getting fruit flies in your home again.
Step 2 – Eliminate Fruit Flies In Your Outside Areas
The next step is making sure that your rubbish bags (that taken from the house) are completely sealed and as far away from the house as possible. I recommend that you put your bags inside of a sturdy, plastic rubbish holder (preferably one with its own lid) as well, you can normally buy these at very reasonable prices at Walmart, etc.
If you make your own compost (from offcuts, etc.), that is very cool, but please make sure that it is very far away from your home. Unfortunately, as awesome as compost heaps are, they often attract fruit flies, which in turn can make their way into your home. Although your house may be clean and they may not stay long, it is definitely not a nice feeling to see fruit flies around, especially when they pose a risk in terms of bacteria, etc.
Lastly, if you find fruit flies are hanging around your outdoor veggie garden, fruit trees, plants, etc, I recommend that you use a spray bottle with a little dish soap, and use that to apply the mixture. This can be a little difficult depending on where they are gathering, but this is a relatively cheap way of sorting them out. The soapy solution will not damage anything either, but they will spell doom for the fruit flies and it is a great alternative to using poison.
Step 3 – Kill The Fruit Flies in Your Drains
At first glance, you may think that your fruit fly problem couldn't be coming from your drains. However, it is actually pretty common and I always recommend my readers do this when they have an infestation. This is also gets rid of other insects that may be lurking in these areas, as well as killing bacteria which is very important. Please repeat these steps for all basins, sinks, outdoor drains, etc. that you can find:
You are going to need about 32 ounces (1L) of white vinegar for each drain. This is usually very cheap and can be purchased at any food shops. Take a moment to count how much you will need before going out to buy some, nothing worse than doing multiple trips for nothing. You can use a little less than this for indoor drains, and outside ones may need a little more.
Next, divide up what you have purchased and pour it down each drain. It really is as easy as that. This will kill insects on contact, as well as kill bacteria that it comes into contact with. I personally do this every 2-3 months, even if I don't have a fruit fly problem, as it is a great way to clean up your drains.
NOTE: If you can figure out how to take out the actual drain plug, that would be helpful as it will ensure that the vinegar doesn't miss any eggs and kills all the bacteria. Once removed, scrub it clean and use plenty of soap. If this is not possible, don't be discouraged as this treatment will still be pretty effective. I have had a number of readers asking about using bleach to kill fruit flies in their drains, and yes it does work. However, unless you have a major issue in your drains (e.g. you haven't cleaned them with anything in the past 5 years), the vinegar works wonders.
Step 4 – Sort Out Fruit Flies In The Bathroom

The last place that needs your attention is the bathroom, as fruit flies are often attracted to damp clothes, towels, etc.
I know that most people won't leave something like this in their bathroom for weeks (for health reasons, not to mention the horrible smell), but I have seen it before and the last thing you need is fruit flies laying their eggs and breeding in there. If you suspect your bathroom has a fruit fly problem, please wash all your towels, give the entire area a spring clean (walls, floors, etc.), make an effort to put away clothing left on the floor.
How Can I Proactively Keep Fruit Flies Away?
Although no pest control solution is perfect, you will get pretty good results by simply keeping your home clean and following the tips about controlling fleas in your outdoor areas (mentioned above). Here are a couple more tips for you to use to keep these pests away:
If you are going on holiday, make sure that you have emptied your bins and cleaned up properly. If you have left food lying around or the bin is full of rubbish, you are basically asking for a fruit fly infestation.
Keep a sharp eye for any fruit or vegetables that might be reaching the end of life. I have made the mistake of leaving potatoes in a kitchen drawer for too long, only to come back to a horrible smell and a bunch of fruit flies who were rapidly increasing their numbers by the day.
Familiarize yourself with the life cycle of fruit flies (article on this blog), as well as where they come from, which will help you to be educated about this pest and better equipped to stop a small problem from escalating into a major infestation.
In the end, it helps to be proactive instead of reactive when it comes to fruit flies, and the good news is that it is not too difficult to do that.
Readers Ask: Getting Rid Of Fruit Flies In The Office
Due to popular demand, I am adding this section, even though the same sort of approach applies for the workplace as it does for the home.
If you are struggling with fruit flies at the office, please don't stress. Fruit flies don't bite and you just need to find out what is attracting them. This can be slightly more challenging in a large office, but get everyone together and check drawers, cupboards, floors, etc. for old food, rotten fruit, etc. Once you find this, get rid of it and put a few fruit fly traps in the office overnight.
If you want to go the extra mile, go ahead and clean the drains as well (using the method listed previously). After a few days, you will find relief, presuming that the reason why they are there in the first place has been removed.
In summary, remember that it's extremely important to address the causes of the fruit flies before you start working on a solution to remove them. I highly recommend giving that trap a try if you have already removed the causes for the initial infestation as it is a great solution that can be used on a tiny budget. I have made a great video on the subject and I am sure that it will complete your knowledge on this subject. If you have any problems, please ask in the comment section and I will aim to get back to you within 24 hours 🙂
Educational Video On Removing Fruit Flies:

Hello! My name is Natasha, and I have been helping people with their insect problems since 2012. I have published a book, worked with many pest control companies, and helped thousands with various infestations on a one-to-one basis. My goal for this blog is to create evidence-based guides that are easy to understand, provide sufficient depth and can be trusted to be very accurate. Please remember that my guides are for informational purposes only, and that you agree to the terms of use when reading content on this website. If you leave a comment, I typically respond within 48 hours.