Kissing bugs (from the Triatominae insect family) are blood sucking insects that are known to attack humans for their food. These pests are sometimes called some names, the most common being "cone-nose bug", "masked hunter bug" or "Mexican bed bug". A major reason these insects are called "kissing bugs" is because they tend to bite around the mouth and eye region while you sleep which is definitely pretty creepy (literally). Imagine waking up to an insect perched on your face, I would absolutely loose it! To make matters worse, these pests have the ability to transmit a dangerous disease called "Chagas" that can cause all sorts of health complications and can sometimes even be fatal. Of course, dying is uncommon but it's definitely worth knowing the danger. In this article you will learn everything you need to know about kissing bugs (click here to skip to the video summary), especially on the steps needed to protect yourself and your family. I encourage you to share this with anyone you know who might be affected by these nasty little insects.
How would a kissing bug hunt you down?
Firstly, these bugs need to find their way into your home. They are usually attracted by lights and the possibility of warmth and shelter from the elements. While it's not practical to completely seal up your home to keep these pests out, you can make it more difficult for them to get in by caulking (sealing up) cracks, etc.
Secondly, a kissing bug usually locates its next meal by literally using its nose. It is attracted to the carbon dioxide that you exhale when you breathe and since you are not going to stop breathing anytime soon (hopefully), it's rather difficult to hide from these pests. As previously mentioned, these bugs are also attracted to warm areas so it's possible that they might just want to cuddle with you while you sleep after having a quick meal (yikes!). The main reason kissing bug bites are often found on the face is because it's usually the only part of your skin that is showing when you are wrapped up in blankets during the night. However, kissing bugs that prioritize the face are usually found in Latin America, the rest are not so picky and can bite any exposed skin.
What do kissing bugs look like and can they fly?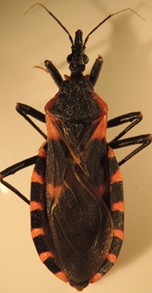 Kissing bugs are slightly smaller than an inch and are completely flat, unless they have recently had a meal of blood. If they have just eaten, they will swell up quite significantly and are easy to catch. As you can see in the picture, these pests are dark brown or mostly black and usually have orange (sometimes even red) markings around the abdomen. These insects also have a rather extended mouthpiece (that they use for feeding) in comparison to the rest of their species.
Speaking of which, it's sometimes easy to confuse these insects with other pests like the assassin, wheel or stink bug so always double check that you are actually dealing with a kissing bug. If you are unsure, please feel free to leave a comment below this article and I will assist you or, simply ask an expert in your area for proper identification. Unlike fleas, adult kissing bugs have wings that they develop during their life cycle and while they don't usually make a habit of flying, it does make them fairly mobile, especially when they are hungry.
Where do kissing bugs hide in a home and what are their feeding habits?
These insects are known to start craving blood as the sun starts to go down and are commonly found actively seeking their next meal during this time. While they are not out looking for dinner, kissing bugs can hide themselves in places that are either sheltered or near their primary source of food, like:
Under rocks, bricks, broken tiles, cement blocks, piles of leaves and other garden refuse.
Inside houses (especially under mattresses), garden sheds (usually inside cracks, holes, etc.) and other occupied structures.
Inside dog kennels, chicken pens, rodent nests and other animal living areas.

If you cannot see these pests, don't presume that they are not there (especially if you live in a high risk area as outlined in the next section). Keep a lookout for their feces (poo) and their eggs. Kissing bug eggs are usually white or slightly pink and will be left in sheltered areas by the females (review the common hiding places that are listed in this article). As for their excrement, you will usually find a combination of white and dark marks on walls, doors and other areas of structures (if there's an infestation).
Where do kissing bugs live and are you at risk of being bitten?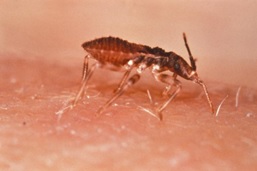 Importantly, kissing bugs (that transmit the disease) are commonly found in South and Central America (even as far down as Argentina). Mexico has also had a number of these pests in the country which also puts a nearby of US states at risk as well, especially in Texas as it's near the border.
I have had a number of my readers contacting me about the possibility of these insects in the United States so here is the answer. There are approximately 85 kissing bug species in the Americas and there are about 15 kissing bug species native to the United States, some of which have been collected in bedrooms and have evidence of recent blood meals. Additionally, some of the ones that were collected in bedrooms have tested positive for infection with the Chagas agent. However, most North American species don't normally have the habit of defecating on their hosts while they feed, so there is less chance that a person could contract Chagas disease from one of their bites. The species in Central and South America always defecate on their hosts while feeding and their human hosts contract Chagas disease by smearing the bug feces into the bite site or into their eyes, mouth or nose while sleepily scratching the bug bite. Although our North American kissing bug species do not normally defecate on their hosts, one should always avoid manual contact with these insects when they are present.
If you have suffered from a kissing bug bite (and you have confirmed that its not from another insect, such as a bed bug bite rash), there are a couple of things that you can do to reduce the pain and inflammation (and reduce a chance of infection) before seeking medical attention. Here are a few pointers that The Bug Squad recommends:
Place ice or any cold pack on the affected region to reduce swelling.
Use an antibacterial soap and wash the bite area with warm water.
Reduce itchiness by using calamine cream or sometime similar. It's very important to resist the urge to scratch as this can leave scarring and actually increase the chances of a bacterial or disease infection.
A quick look at the their amazing life cycle
Do you know what an incomplete metamorphosis is? Well certain insects (like kissing bugs or box elder bugs) have a simple metamorphosis cycle that doesn't involve a pupa stage. This means they don't need to "cocoon themselves" (like a caterpillar does before it changes into a butterfly) for a long time to change their body. Although a number of changes can occur between infancy to the adult phase, they are progressive (each time it molts) and happen as the insect is growing up which is pretty damn cool!

In the case of a kissing bug, the females are known to lay eggs between June and September and their babies will only hatch after about 1-3 weeks, depending on environmental conditions. When the nymphs (babies) hatch out the eggs, they look fairly similar to the adults but have slightly different coloring and no wings. Based on a little research, it's estimated that each young insect needs around 5-8 meals of blood before each molt. Over time, they will develop these needed changes (such as wings) as they progress towards adulthood.
Do they carry dangerous diseases and what are the symptoms of their bites?
Unfortunately, kissing bugs and the Chagas disease infections often go hand in hand and this is a fairly serious concern. However, remember that it's not the saliva (or the blood) that contains the disease (unlike Malaria). The disease is actually contained within their feces (poo) and you will only catch it if the excrement (that has the disease) is placed near an open wound (such as a recent cut or graze), is dropped in your eye (can also be rubbed in with your fingers) or if you swallow it. Some of the symptoms of Chagas disease include:
Diarrhea (does depend on the person)
Adverse skin reactions (such as rashes, hives, itching, swelling of glands, etc.)
Nausea, fainting and shortness of breath (not usually immediate but will manifest after some time has passed)
Inflammation of the heart and kidneys (this would be confirmed by a certified medical expert).
If you encounter any of these symptoms (even if it's not from Chagas), please contact a medical practitioner immediately as this website is not a source of medical advice. If you think your symptoms may have been caused by this disease, be sure to mention this to the doctor. If you live in a high risk area, it might be worth your while to get yourself checked out from time to time as not everyone who contracts the parasite gets sick immediately and its best to catch it in its early stages. Research shows that it may take years before it takes taking a toll on your health and it's estimated that over 12500 people die from it each year alone!
Important warning for handling these insects

If you have found what you think is a kissing bug, it's very important that do not touch it with your bare hands. The Center for Disease Control recommends that you place it in a secure container (you can freeze it to make sure that the bug dies) and take it to the closest governmental health department for identification (as its rather serious if a potential infestation is at hand, steps will need to be taken, people will need to be warned, etc.). If the insect was seen walking on any surfaces, it's recommended that you wash them with a solution of bleach and water to make sure that any bacteria is killed.
How to get rid of kissing bugs quickly and safely
Proactive ways to keep them out: As usual, it's always a good idea to take preventative action (if possible) when dealing with kissing bugs. Here are a few recommendations from The Bug Squad:
Seal up any holes, cracks or openings that may allow insects to get into your home, even when the windows and doors are closed. If there is a large amount of insect activity in your area, it might be useful to buy an insect screen net for your windows as this will allow the pleasant breeze to come in but will also keep the nasty pests out!
Keep on the lookout for their presence (feces, small blood stains, etc.), especially in your living areas.
To protect your pets, keep them inside as they can also be infected by the Chagas disease if they eat one of these insects.
Keep your yard free of their hiding areas. As previously mentioned, piles of leaves, garden refuse, etc. are prime targets so clear them away.
If you are traveling or live in a region that has a high risk, you can also use things like bed nets to protect yourself from pests that may find your sleeping body interesting while you are sleeping.
Richard Fagerlund, a well respected pest expert has recently suggested that getting rid of pack rats and their nests (middens) is another good way to reduce the chances of these insects invading your home.
How to get rid of kissing bugs: I have had a number of individuals asking about kissing bug traps. From my experience (and research), bait based traps do not work for getting rid of these pests. However, if you have found a trap that you have had success with, please drop me a mail (or a comment below) and I will take the necessary steps to confirm the product and update this section of the guide.
As usual, I always recommend giving the entire home a good clean (vacuum, etc.) when dealing with a pest infestation. Since these insect can carry a dangerous disease, it's worth mopping the floors (and wiping surfaces, etc.) with a combination of bleach and water (as previously mentioned).
Use a synthetic pyrethroid spray (always seek professional advice before using it as it can be rather dangerous) to kill these pests in your home. Just make sure you don't use them near people and definitely keep them away from the bedroom where you sleep. After posting this article, I have since been encouraged by a few pest experts to let my readers know that its best to seek some non-toxic sprays first, if they are available in your area.
Contact an exterminator in your local area. There are a number of pest control experts that you should be able to contact in your local area. Call them and get a quote for the job.
Interesting Facts to Share with Your Friends
Kissing bugs can fly to find their next meal using wings they gain at adulthood.
These pests know how to kill bed bugs and actively them seek out for their last blood meal. However, kissing bugs are definitely not a valid solution for bed bug control in your home 😉
Kissing bugs can be rather brave. One study showed that as soon as someone put their finger near this insect, it charged at them, looking for blood.
These insects transmit a disease called Chagas that can lie dormant for years before suddenly causing major health complications.
It's estimated that about 18 million people are infected with the Chagas disease annually, many of which do not even know!
In conclusion, kissing bugs are a rather dangerous insect that can potentially spread a fatal disease (Chagas) in their feces by biting you. Although they are native to Central America, these insects are able to travel far distances and there have been a number of sightings in North America and other places. Your best protection against these bugs is to be proactive and clear away or fix areas where they may hide for warmth and shelter. If you are bitten by one of these pests, I highly recommend that you seek medical attention and mention that you have had a recent bite from a kissing bug to make sure you receive the help you may need. I hope you enjoyed this article (please consider sharing it with your friends) and I look forward to hearing from you in the comment section below.
Summary Video For This Kissing Bug Guide

Hello! My name is Natasha, and I have been helping people with their insect problems since 2012. I have published a book, worked with many pest control companies, and helped thousands with various infestations on a one-to-one basis. My goal for this blog is to create evidence-based guides that are easy to understand, provide sufficient depth and can be trusted to be very accurate. Please remember that my guides are for informational purposes only, and that you agree to the terms of use when reading content on this website. If you leave a comment, I typically respond within 48 hours.