Summary: The best flea treatment for dogs involves a combination of natural and product based remedies. Since these little pests feed on your dogs blood and can potentially cause health problems, if your dog has fleas you need to get them under control as soon as possible. Even if your dog doesn't get a bad allergic reaction to their bites, they can still be rather irritating as they can make his or her skin very itchy. As a responsible dog owner, you need to help resolve the flea problem quickly.
Research shows that fleas can live on people, which means that they could come after you when you are holding your dog or playing with him. While fleas don't fly, they can jump fairly high so you are not even safe when you are on your bed, trying to get some sleep! But there is no need to stress, treating fleas on your dog is actually rather simple and affordable if you know the steps that we will outline in this article. Lets look at the best ways to treat the fleas on your dogs so you can get rid of them as soon as possible and at a minimal expense!

Very Obvious Signs of Fleas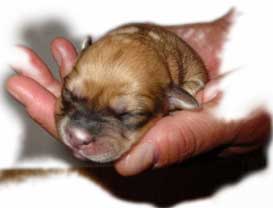 Interestingly, fleas look like tiny fruit flies and are usually brown in appearance. The most common type of dog fleas are very small and as a result, it may take some effort to find them. If you notice your dog is scratching on a regular basis, this should prompt a quick investigation. While there is a good chance that it's a false alarm as pets scratch themselves for lots of reasons, its really not worth risking the possibility that your dog has fleas. If your feline friend is also being targeted, here is a good article about the best flea treatment for cats. Take some time to carefully examine your dogs fur for fleas. The next thing you should look for is signs of an allergic reaction on your dogs skin. While this may be a result of a food allergy, its commonly a sign of a sensitivity to flea bites.
Sometimes pet owners (myself included) are oblivious to insects that find their way onto bed linen and blankets. As a perfect example, a couple weeks ago I only realized my dog had fleas because there were a few jumping around on the bed (yes they jump, not fly). This obviously was quite a shock and I took steps to deal with it immediately. So if you are a pet owner, just keep your eyes open for fleas and you may find them in strange places! Another area that you can investigate is your dogs toys, sleeping areas and other places where it likes to play. If you dog does have fleas, chances are that these areas will also show signs of a flea infestation and treatment is necessary here as well!
Less Obvious Signs That Fleas Are Present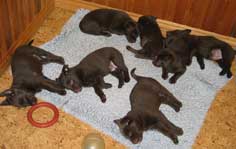 Unfortunately, fleas can escape a manual inspection fairly easily. They simply need to jump off and if this goes unnoticed, chances are that you won't even notice your dog has a flea problem. The best way to determine if your dog has fleas, even if they are not visible at present, is to use a flea comb on its fur and look for signs of "flea dirt".
This is commonly found in flea problem areas and is actually their feces and dead skin. This of course, is fairly gross but at least it helps us know if there were fleas around, even if we cant see them at the moment.
If you don't have a flea comb, there is no need to go and spend money on one if you have a fine-toothed brush lying around the house. In my case, my husband had one and I "acquired it" for my testing purposes. Despite my best intentions, he wasn't impressed! Regardless, it helped me find out that our dog had fleas and was totally worth it. 😉 How did I use it? Well simply place your dog on a white sheet and give it a complete brush. Once you are complete, examine and debris that fell off your dogs fur for tiny black objects that are about the size of a full stop at the end of this sentence. If you find a considerable amount, (make sure its not just dirt, it will have a black appearance, not brown) there is a good chance that your poor dog has fleas!
The Best Products for Treating Dogs with Fleas
Frontline for dogs is a fantastic product that works well. Just remember that its for external use only and you need to make sure that you get the correct type for your dog. Simply look on the front of the packaging and search for the weight requirements and choose the correct one based on the size of your pet. If I was going to use a flea poison for my dog, I personally feel that this is one of the best product based flea treatment methods for dogs and it definitely does its job well!
The Advantage flea treatment range is another brand that you can trust. Follow the same guidelines as the Front-line product and make sure you pay attention to the instructions carefully. Also remember that when dealing with these products, its always a good idea to give you hands a good wash afterwards as you may find that some of the flea poison is left over on your fingers, which can make you very sick if ingested.
The Best Flea Treatment for Dogs with Sensitive Skin
Combine a mixture of lemon juice and warm water and rub it into your dog's fur. Repeat this process everyday for three consecutive days. Your dog may not be too impressed but this is a proven method to get rid of fleas and it's a very affordable option.
Combine a mixture of Dawn dish soap and water and follow the same procedure as the lemon juice method. I have personally used this method and I think that it is the best natural flea treatment for fleas on dogs. Just make sure that you keep the treatments regular and you are almost guaranteed success. For additional information, please feel free to ask your questions in the comment section below.
Critical Flea Treatment for Your Home
After treating your pet, take some time to clean up the home. This may involve giving your pets blankets (or even your linen if it has been affected) a hot wash. This ensures that the adult fleas are killed and do not find their way back on your dog or even you!
You can use a couple natural powders that have been proven to help with flea infestations. Using borax for fleas or getting some diatomaceous earth to kill fleas in your carpets, etc. has helped thousands of people that have visited The Bug Squad and can help you as well so give it a try!
It's always a good idea to grab yourself a flea spray that is IGR compliant. This ensures that the flea life cycle is halted and the baby fleas (even fleas that haven't hatched yet) are killed. If you do not use an IGR compliant spray, you may have another flea problem in a couple weeks so this is a very important step if fleas have started to infest your home. I have found that the Comfortis flea control products to be excellent in this regard. However, most of the well known brands contain this component. NB: Please note that this flea spray is NOT for use on your dog!
Proactive Approach to Flea Control for Your Dogs
Always remember that the best way to protect your dog from fleas is to put in preventative measures so that it doesn't get fleas in the first place. I understand that this is not always possible and even if you are very careful with your pets, its almost impossible to completely avoid any possibility of your dog getting fleas sometime during its time with you. However, there are a few steps that you can take to improve your chances of keeping fleas away.
Keep your lawn trimmed and remove excess foliage around your yard. Fleas often come from outside the home and doing these tasks will reduce the chance of a flea infestation in the yard. This will also ensure that your dog is protected from a potential flea problem in these areas. You can also purchase cedar wood chips and spread them in dark and damp areas to keep fleas away!
If your dog has any interaction with other animals (especially if they are not your own), take a few moments to ensure that there are no fleas on him or her before bringing your dog back inside. This proactive approach allows you to stop a flea infestation by identifying it quickly and dealing with it immediately. If you know that there were animals near your dog that had fleas (such as another pet), make sure you give your dog a wash with dawn soap and hot water to stop those fleas dead in their tracks!
In conclusion, finding the best flea treatment for your dogs is really dependent on what route you want to take, namely a natural or a poison based one. Both have their advantages and disadvantages but as always, I highly recommend trying a few natural methods before purchasing the products suggested in this article. While flea products tend to give you a quick fix, just be careful of using any sort of poison as it can potentially harm the health of your animal as well as yourself. Thanks for taking the time to read this article! 🙂

Hello! My name is Natasha Anderson and I have been helping people with their pest control issues since 2012. If you have any questions, please leave a comment below (or contact me up on social media) and I will respond within 48 hours (even for older articles). Please note that these articles are for informational use only, please seek help from a local professional if you have a serious situation. If you want to support my work, please share this article on social media.