Summary: Learning how to get rid of fruit flies is very important for any household that has been invaded by these little insects. The kitchen will be first on our list to investigate as its often the source of the infestation but places like your toilets and other places also need your attention. There are a number of home remedies for fruit flies that are effective and the good news is that most of them are very cost effective.
Fruit flies are often a major problem during the hot summer months. Even during the winter, you may have a fruit fly problem if you are not careful. Losing the battle against these pests, especially when its humid and hot can not only be irritating but can also pose a serious health risk due to their exposure to rotten fruit, animal (and sometimes human) excrement and bacteria ridden garbage. Many people feel that its impossible to effectively fight an infestation of fruit flies. However, there is no need to worry or to stress, as this guide will show you how to do this quickly without disrupting your daily schedule or damaging your monthly budget.
How Can I Get Rid of These Damn Fruit Flies?

For effective fruit fly control, you need to identify the route cause instead of just fighting the symptom. So in other words, before you start on your campaign against these flies, you need to identify the causes of fruit flies as soon as you start seeing them. Once this has been accomplished, you can then remove fruit flies that are left. Lets have a look at the exact steps that are needed. Please note that these steps are not in order of priority. It is my recommendation that all of them should be done to ensure that you get rid of fruit flies fast. For more information on where fruit flies actually come from, check this out. Lets have a look at a few ways we can eliminate fruit flies.
Remove Fruit Flies in Your Kitchen Before They Spread!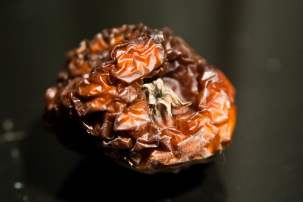 Although fruit flies don't bite, I am sure you want to start your removal process immediately! Keeping that in mind, the first step should always be to remove any rotten fruits or vegetables that you may have in your house. Although these are usually found in the kitchen, its worth your while to thoroughly check everywhere for things like apple cores, peach pips and other things like this. Even if your fruit or vegetables is not completely rotten but is slightly over ripe, has a slight slimy feel or has any sort of bruises, it needs to be thrown away immediately.
This may cause some concern for some people as they may feel that this is a waste of food. However, although this may be true, you are focusing on the symptom instead of the cause, as we discussed earlier. What do I mean by this? Well, instead of complaining about wasting food, wouldn't it be better to cut down the amounts of fruit and vegetables (and other food) that is purchased weekly so that you don't ever have the situation of them going rotten in the first place? This will definitely save you money in the long run! Giving the current economic climate, this is definitely good news for most of us!
Another important factor when it comes to disposal of waste is the removal of garbage as soon as humanly possible, especially in areas like the kitchen. Garbage bins are a breeding ground for fruit flies as they often contain rotting foods that pose serious health concerns. If you feel unable to remove the garbage bags on a regular basis, (we understand, life is extremely busy sometimes) I highly recommend putting offcuts from fruit and vegetables (and any other fresh food, including meat) into a smaller plastic shopping bag. Once you are done preparing the meal, tie up the bag and put that inside your main garbage bin. This will greatly reduce the chance of a fruit fly infestation as unrefrigerated produce can be the main cause of fruit flies in your home.
Make sure that your dishes are always clean as dirty dishes eventually attract bacteria, which in turn will attract fruit flies, which will make killing these fruit flies in the kitchen very hard. Remember that fruit flies are also attracted to sugar and other forms of sweet food and drink. Jelly and cake are examples of the types of food you definitely do not want to leave lying around else you will attract bugs. On the same line of thought, just because these foods may have been consumed, there is almost always some stickiness left over on the plate or bowl. This can attract fruit flies and if left unattended for a duration of time, they can lay their eggs (part of the fruit fly life cycle) in your house (as they feel there is a ready source of food nearby) and cause you weeks of frustration.
Don't forget that certain drinks such as wine and orange juice (and other sweetened drinks, especially coca-cola) can also attract these insects, definitely something you do not want. But as a general recommendation, its always good to keep a clean kitchen for many health reasons so try your best to wash your dishes on time and put them always after drying them properly.
Tips for Eliminating Fruit Flies in Plants and in Your Yard
The next step that should be taken is to focus on removing any form of compost from the near vicinity of your house. Many people make their own compost from food offcuts (onion peels, pips, etc) and this can be commended. However, although this may be great for your garden, its really not helping your fruit fly infestation. I am not in any way suggesting that you should stop doing this, actually I honestly think its very resourceful. You just need to make sure the compost is away from your living space (if it is not put in the garden immediately) as it has the potential to attract fruit flies.
Another area of concern for home owners is the problem of fruit flies attacking their plants. This can seriously detract from the overall appearance of your interior décor and can give the impression that your house is not clean. Therefore, it is in your best interests to solve this problem immediately. I have a great method to get rid of flies on house plants and it involves mixing a little bit of dish washing liquid into about one liter of water. Then put this solution into a small spray canister and use that on your plants. Make sure you only put a tablespoon or so of the dish washing liquid in the water, that's all you need.
At first you may be worried that the foam this creates will damage your plants but do not worry, it will not do any harm and will keep those pesky fruit flies away. The same can be done for your plants outside, such as roses and other highly prized items in your garden collection. However, this method is usually used in-doors due to its non-abrasive approach and insecticides tend to be used to outside.
Dealing With Fruit Flies in Your Drains

At first glance, you may think that your fruit fly problem couldn't be coming from your drains. However, it's very possible and if this is the source, the best way to get rid of flies in your house would be to kill them here before they spread to other areas. In fact, in all aspects of life, its very important to always go after the root cause instead of chasing symptoms and the same applies to gnats, bees and anything else that might start to swarm your living areas. You need to take a proactive stance and this is exactly what we are going to do.
You need to figure out how to take out the actual drain plug. It is usually secured by screws but sometimes it can have waterproof glue that is keeping it in place. Either way, the first step is getting it out and any adhesive that is removed can easily be replaced later.
Now that the drain plug has been removed, take a long, hard bristled brush (these can be found at most shopping malls, if you do not have one already) and push it up and down the pipe repeatedly until you feel that it has been adequately cleaned. Its important to do this properly the first time as it shouldn't need to be repeated for a good couple months.
When you cleaned the pipe with your hard bristled brush, it should have removed most of the debris but there still may be some left over. Simply taking a hose pipe, preferably with a high pressure nozzle, will ensure that any remaining muck is eliminated and your drain pipe is left nice and clean.
The last step in getting rid of fruit flies in your drain is to pour boiling water down the pipe that you just scrubbed and cleaned. Since fruit flies are often attracted to areas where there is a high level of bacteria, this method will ensure that you eliminate this as well so the fruit flies do not return. A great addition to hot water is to also pour some household bleach down the drain so if you have some handy, I highly using it. I recommend doing it every couple weeks to kill any lingering bacteria, whether its attracting fruit flies or not.
Getting Rid of Fruit Flies in Bathroom Areas

Another place that is problematic when they start laying their eggs and you need to control fruit flies from spreading into your toilet areas. Fruit flies are also attracted to damp clothes and things like sponges, mobs and face cloths because of bacteria buildup. Another big cause for concern is when towels are left crumpled on the floor after showering or using the bath. If they are left there long enough, you will start having an issue with bugs such as fruit flies. I understand that this will not happen overnight. But if this is done on a regular basis, you might find that this stimulates the infestation that may affect other parts of your house. And as I am sure you can imagine, you don't really want bugs coming from the toilet and then landing on your food. This can be dangerous to your health and that of your family. I cannot stress the importance of keeping your bathroom clean. This is not only so you can keep fruit flies away but also for lots of other health reasons. Without going into too much detail, I think its safe to say that it's a high priority when it comes to maintaining a high level of cleanliness.
How You Can Get Rid of Those Fruit Flies in the Office
Believe it or not, even the work place can become infected with fruit flies, even if staff do not bring fruit to work. Remember that fruit flies are attracted to any form of rotten food? Well, many people have these bugs in their work space and it can be very frustrating, in addition to embarrassing, especially if a new client has come to visit and sees them flying around.
The good news is that you just need to follow the steps outlined earlier and apply them to the areas in your workplace. So clean and pour boiling water down your drain pipes, (also use bleach if its available) spray your plants with a soapy solution (created by mixing dish washing liquid and water), throw old food away and keep rubbish bins sealed up tight. After you have completed this step, all you need to do is set a few fruit fly traps and you will start to see immediate results.
Is There Any Way Prevent Fruit Flies From Infesting My Home?
Well I also follow the same routine of being proactive instead of reactive. So instead of having to deal with a fruit fly infestation, I make the effort to try and prevent it happening in the first place. However, sometimes life does catch up to me and dishes are left unwashed for a day or two. Or perhaps I go on holiday and forget to take out the trash. When this does happen and I start to see fruit flies around my house, I don't get myself worked up but instead simply kill their breeding areas and then follow the steps outlined above. Many people have asked me, "how do you get rid of fruit flies naturally in the fastest way possible" and my simple answer to that is, don't get a fruit fly problem in the first place.

But when you do, get rid of them in one go, don't stretch it out over a couple days and you will get rid of them.
In summary, remember that its extremely important to address the causes for the fruit flies before you start working on a solution to remove them. I highly recommend giving that trap a try if you have already removed the causes for the initial infestation as it is a great solution that can be used on a tiny budget. I have made a great video on the subject and I am sure that it will complete your knowledge on this subject. If you have any problems, please ask in the comment section and I will try get back to you within 24 hours

Educational Video On Removing Fruit Flies: