Summary: A quality flea comb is an affordable way to identify and remove fleas from pets. Since this process is non-toxic, it can also safely remove fleas on kittens and puppies. In fact, you can use it for many different types of pets, even if they are very small. I have had some readers tell me that they even use one for their rats! Regardless, with a little effort each week, your pets can be flea free and although they are usually used in conjunction with other flea products, it's definitely a good option for any pet owner for keeping fleas under control.
Early identification is critical when it comes to fighting fleas. If any signs of fleas are found, immediate action should be taken. Using a flea comb is one of the most popular ways to detect the presence of fleas and to actually remove the adult fleas from the fur. In this article, we are going to explore the best way to use it, discuss a few warnings, learn about repeat schedules and a look at a short checklist for purchasing one that will yield the best results for the cheapest price.
What Is a Flea Comb and When Should I Use Them?
Flea combs are a fine toothed device that you can use to find fleas (and remove them) from pets. In fact, most of them can be used for both dogs and cats or even other furry animals like rabbits. While normal human hair combs might work, they won't be as effective because the teeth of the comb needs to be very close together to ensure that fleas, dirt and eggs are caught.
For removing adult fleas – This will bring immediate relief to your pet
For the identification of flea dirt – This indicates the presence of fleas.
For the removal of flea dirt, adult fleas and their eggs.
Also remember that these combs are great for removing fleas from small pets that cannot use most flea products due to sensitive skin. It's also a great way to control fleas if you prefer to avoid chemicals.
If You Are Using a Flea Comb for Cats:
Cats sometimes freak out when being brushed. If you find yourself engaged in a potential fight to the death with your cat, its best to seek alternative methods for getting rid of fleas, especially if it has sharp claws! 😉
When brushing, be aware of any sensitive areas on your cat. While they may not be any cause for concern, any pain your cause during the process will create a fear that may make your pet run as soon as they see you take out the comb. Since you will probably be doing this fairly often, that is the last thing that you want and will make things difficult for you in the future.
If your cat has a number of flea bites, brushing their fur and using the comb to find fleas can be very painful due to inflammation. I recommend treating the bites with a soothing cream before brushing or alternatively, just be gentle while doing it to avoid any unnecessary pain.
Flea Combs for Dogs (And Cats) – How to Use Them
I know what you are thinking – how hard could it be? To be honest, it's as easy as brushing your own hair so it shouldn't be too difficult (hopefully). However, since we are using a flea comb to find and identify fleas and their remains, there are a few things that you can do to improve your success rate.
Unless your dog or cat has very short fur, the first thing that you should do is brush it with a normal sized flea comb to ensure that its fur is free of knots. Since the flea comb has very fine teeth, if you try and brush your pet with it and its hair is tangled, it will be extremely difficult to do and can even hurt your pet.
You will need a place to discard of any fleas and dirt that you find. The easiest way to do this is to pour some hot water into a container of your choice and pour some lemon based dish soap into it (about the same amount you would put into your sink before washing dishes). In fact, washing your pet with this mixture can get rid of fleas on your dog and its something to keep in mind for the future. Many people recommend putting flea spray or something like that in the water but it's really not necessary.
Take your pets outside! Since fleas can jump from their fur, we don't want them to escape back into the house. Also remember that flea eggs can also fall off your pet, we also want to keep those away from our carpets otherwise we will have another outbreak of fleas in the near future. Sit your pet down and get ready to use your flea comb. At this point, you may want to request the assistance of a friend or family member. While most pets usually love the attention, some pets don't appreciate being held down and from experience, they can sometimes physically show you their displeasure. If you are combing a cat, this can result in much pain and it's a good idea to have some backup available. 😉
Starting with the head and neck region, give your pet's fur a good (but gentle) brush, making sure that you take the time to cover all areas. The tummy region is also a common place for fleas to hang out so don't forget it! While combing for fleas, you will also need to check your pet's paws to ensure that no fleas are left behind. I usually dunk the comb into my hot water/soap solution every couple brushes or when I notice any fleas or dirt on it.
How Often Should I Use These Combs?

If you have a bad flea problem in your area (places with an excessive amount of trees, grass, etc. are especially vulnerable), you may need to do this on a daily basis.
However, I usually comb my pets at least once a week to ensure that I am proactive with my flea control and I have found this to be perfectly sufficient. Just remember that your dog may pick up fleas during an outdoor visit to the park or during a long run so it may be worth checking it's fur afterwards to make sure there are no fleas. If you are using a monthly spot on treatment (like Front Line or Advantage), the requirement to consistently brush your pets for fleas is reduced but I still recommend a checkup from time to time.
Where Can I Purchase a Comb and How Much Will It Cost?
You can purchase one at most pet shops, vets and even supermarkets usually stock them. Remember that you will also need a normal pet brush (if you don't have one already) that can remove the knots and tangles out of the fur. This should not be the same brush you use for flea combing. Here are a few things to look for when purchasing a quality flea comb:
Preferably, you should purchase one with metal teeth. In my experience, a plastic flea comb tends to not last long and metal ones are a lot stronger.
The comb teeth need to be very close together (fine toothed) and it's ideal to get one with two rows (double row) of them. This improves the chances of catching the fleas, eggs and dirt while brushing your animal.
I usually look for a product that has a rubber handle. I find that it makes it easier to use but this is optional.
You shouldn't need to spend anything more then $15. There are even decent quality flea combs that sell for as low as $5 so they should be affordable for most people.
Is That All That I Need to Do to Control Fleas?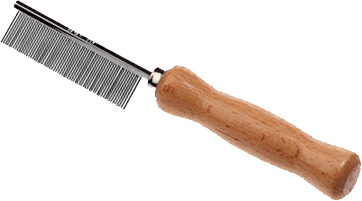 A quick answer – sometimes 🙂 I know that's a bit vague but if you have an isolated, small flea problem, removing them off your pet is usually all you need to do. However, if your flea problem is fairly bad and you have noticed fleas in your carpets, beds and other areas around your home, addition steps need to be taken. You can use flea bombs to kill the fleas inside and a few natural flea removal methods or flea products (like Frontline) to get rid of them nice and quickly.
In conclusion, regular grooming is very important, especially for finding and getting rid of fleas. While it's often not the only thing that needs to be done, taking a proactive stance against fleas can help you avoid major problems later. As long as you are consistent and follow a regular routine, flea combs are a very effective, non-toxic, affordable way to control fleas on your pets and their use is recommended by The Bug Squad. Thanks for reading my guide and I invite you to leave a comment below. Update: As per popular request, I have written an article on using beneficial nematodes for outdoor fleas, check it out if little furry friends keep bringing in fleas from your garden.

Hello! My name is Natasha, and I have been helping people with their insect problems since 2012. I have published a book, worked with many pest control companies, and helped thousands with various infestations on a one-to-one basis. My goal for this blog is to create evidence-based guides that are easy to understand, provide sufficient depth and can be trusted to be very accurate. Please remember that my guides are for informational purposes only, and that you agree to the terms of use when reading content on this website. If you leave a comment, I typically respond within 48 hours.